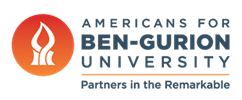 "Who Are The Marcuses?" Wins Best Feature
July 31, 2023
Desert & Water Research, Leadership, Awards & Events
San Diego Jewish World — "Who Are the Marcuses?" — a documentary that reveals the mystery behind a couple who made the largest-ever charitable donation to an institution based in Israel — was recently named the audience award winner for Best Feature at San Diego's annual Blue Water Film Festival.
Held in June to coincide with World Oceans Day, the festival promotes San Diego "as a hub for marine science, naval exploration, and an epicenter for environmental storytelling" and cultivates "a burgeoning family-based, environmental, and military community in San Diego and around the world," according to its website.
The award-winning documentary reconstructs the lives of Holocaust survivors Lottie and Howard Marcus, an unassuming couple from Great Neck, N.Y., with a passion for Ben-Gurion University of the Negev (BGU), the southern academic Israeli institution whose innovation inspires peace and climate action through water technology. The Marcuses retired to a modest two-bedroom apartment in San Diego. Former dentist Howard passed away in 2014 at age 104, and Lottie died less than two years later. The film simultaneously traces the development of Israel's vital water technology from pre-state to the present; how the Marcuses' $500 million gift in 2016 has ensured continued leading-edge development in water science for not only the Israeli people, but the world as a whole; sets the family's gift in geopolitical context; and explores both its impact and implications for regional peace through technology exchange.