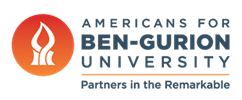 Warren Buffett, Water, and BGU: The Story Behind It All
August 11, 2023
Desert & Water Research, Leadership, Awards & Events
Times of San Diego — Ellen Marcus, daughter of the late Holocaust survivors Lottie and Howard Marcus, visited Omaha, NE earlier this year for a screening of the film "Who Are the Marcuses?" — a documentary that reveals the mystery behind the largest-ever charitable donation to an institution based in Israel, Ben-Gurion University. The film was recently named the audience award winner for Best Feature at San Diego's annual Blue Water Film Festival.
Held in June to coincide with World Oceans Day, the festival promotes San Diego "as a hub for marine science, naval exploration, and an epicenter for environmental storytelling" and cultivates "a burgeoning family-based, environmental, and military community in San Diego and around the world," according to its website.
The award-winning documentary reconstructs the lives of Holocaust survivors Lottie and Howard Marcus, an unassuming couple from Great Neck, N.Y., with a passion for Ben-Gurion University of the Negev, the southern academic Israeli institution whose innovation inspires peace and climate action through water technology.
"The Marcuses were humble visionaries who saw the importance of water research not only as vital to Israel's self-sufficiency but as a strategy to achieve peace through shared natural resources. Their transformative generosity will be felt for generations to come," said Doug Seserman, Chief Executive Officer of Americans for Ben-Gurion University.