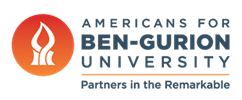 Find Out "Who Are The Marcuses?" in New JPost Interview
October 2, 2023
Desert & Water Research, Leadership, Awards & Events
The Jerusalem Post — In the early 2000s, Ellen Marcus suggested to her aging parents, Howard – well into his nineties – and Lottie – in her late eighties – to hire an attorney to review their estate plans and ensure everything was in order. Shortly after, the lawyer in San Diego invited her for a conversation with her parents.
"On that occasion, I found out for the first time that my parents' wealth was worth hundreds of millions of dollars," Ellen Marcus recalled. "I almost fell off the chair. And I immediately said that they should give it to charity."
Fast forward a few years, the Marcuses would endow the Ben-Gurion University of the Negev (BGU) with half a billion dollars. Their donation not only marked the largest individual charitable gift ever received by an Israeli institution but also surprised the world: How could a family of whom nobody had ever heard of, who lived a comfortable but in no way extraordinary life, give such a high amount of money?
Howard and Lottie's secret, and their mission to change the world for the better while strengthening Israel are the focus of the documentary "Who Are the Marcuses?" which debuted at the Newport Beach Film Festival last year. Aside from screening at others festivals, the film was screened at the 2022 United Nations Climate Change Conference COP27. It is scheduled to be screened at Goucher College and at several Jewish film festivals in the United States in the upcoming months.