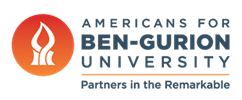 The Jewish Exponent Interviews Claire Winick
October 4, 2023
Israel Studies, Culture & Jewish Thought, Leadership, Awards & Events
Jewish Exponent — Claire Winick grew up in what she describes as "a strong Jewish household." Her maternal grandfather, Mayer Lurie, was a rabbi and cantor in a North Philadelphia synagogue. The family was kosher. They observed holidays with large gatherings.
Winick remains a member at the Conservative Congregation Adath Jeshurun today. She's been there for more than 50 years.
But for this committed Jewish woman, simply maintaining a Jewish household was not enough. For the last 38 years, Winick has devoted her time to strengthening Ben-Gurion University of the Negev in Israel.
The school was introduced in 1969 to help build up the Negev region, a desert that comprises more than 60% of Israel's territory. The Jewish state's first prime minister, David Ben-Gurion, believed that the future of the country was in the region. Ben-Gurion University specializes in neuroscience, cybersecurity and other fields of study.
Americans for Ben-Gurion University is a U.S.-based nonprofit that raises money for the university. Winick has served as its Philadelphia-based director of development since 1985.
She estimates that she's raised between $150 and $175 million for the school. She also helped start new ABGU chapters in Washington, D.C., South Jersey and Atlantic County, New Jersey. Ben-Gurion University has increased its student body from about 5,000 students to more than 20,000 during her time as director of development.
"We're pointing out what's right about Israel," Claire explained. "We're focusing on institutions like BGU that are producing research not only for the betterment of Israel but for the world."
Read more on Jewish Exponent >>