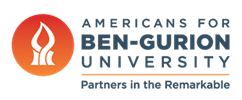 Haaretz: BGU Professor Unearths Jewish Discoveries in Egypt
April 21, 2022
Israel Studies, Culture & Jewish Thought
Haaretz —  Over the last five years, Prof. Yoram Meital of BGU's Middle East Studies Department, a 63-year-old specialist on Egypt, has been taking part in a project aimed at conserving synagogues, cemeteries and other Jewish sites in Egypt. The project is being carried out by the tiny Jewish community that remains in Egypt, with American funding and the cooperation of Egyptian authorities. A consultant on the history of the Jewish community, Meital is documenting existing conditions through photography and texts, and creating a detailed database of remaining Jewish sites in Egypt.
"I document the height of synagogue pillars, the state of curtains covering the ark (parochet), the writing on memorial plaques in synagogues and the names of people on name plates affixed to synagogue chairs," he says. No less important is the collection and preservation of Jewish manuscripts, some of them rare and valuable, that he have found in the course of his documentation.
One recent discovery was found in the cellar of a Cairo synagogue. "A small metal container was full of papers. When I examined them I saw that this was a registry of the entire Ashkenazi community in Egypt, including names, birthdates, emigration, professions and many other delights from the community's past, such as letters of complaint," says Meital. "It was all stowed away at the synagogue, including a story about a Jewish doctor from Vienna who escaped Austria after the Anschluss, arriving at Alexandria, then moving to Cairo. When he asked to be accepted by the Jewish community, he said that he'd left Vienna with the approval of an SS officer," says Meital.
He also found documentation of a Yiddish theater that operated in Cairo, putting on plays by Shalom Aleichem, as well as invitations to a Purim spiel. "We are able for the first time to significantly document Ashkenazi community life in Egypt," he says excitedly.
If the project's organizers' vision comes true, a central library will be set up in Cairo whose holdings will include manuscripts that are now in the process of preservation. They are currently being held in a safe location, Meital says, declining to give any details.