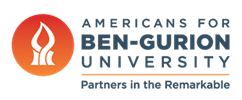 Variety Debuts "Who Are the Marcuses?" Trailer
April 13, 2022
Desert & Water Research, Israel Studies, Culture & Jewish Thought, Natural Sciences
Variety — Rubber Ring Films and Stone Canyon Entertainment have wrapped production on "Who Are the Marcuses?," a feature documentary about the mysterious couple who gave more than half a billion dollars to BGU. The documentary tells the story of Howard and Lottie Marcus, a Jewish couple from Long Island who were also savvy investors, and re-imagines conflict resolution in the Middle East and peace through the Earth's most precious resource: water.
"The Marcuses were humble visionaries who saw the importance of water research not only as vital to Israel's self-sufficiency but as a strategy to achieve peace through shared natural resources," says Doug Seserman, chief executive officer of Americans for Ben-Gurion University. "Their transformative generosity will be felt for generations to come."
Matthew Mishory directed, with producers Bradford Schlei and Alvaro Fernandez of Stone Canyon along with executive producers Marc Bennett and Rhino Films' Stephen Nemeth, who is serving as sales consultant. Watch the trailer below:
Read more at Variety.
The trailer has also appeared on: