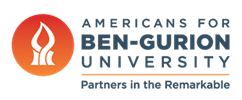 Dr. Ruth Promises "Good Sex for Life" for Donations
January 13, 2020
Press Releases, Social Sciences & Humanities
Renowned psychosexual therapist, Dr. Ruth Westheimer, will be receiving an honorary doctoral degree from Ben-Gurion University of the Negev (BGU).
To commemorate the honor, she is establishing the Dr. Ruth K.Westheimer Endowed Scholarship for Psychology, which will fund psychology student scholarships. BGU's Department of Psychology provides students with a broad understanding of the basis of normal and abnormal behavior while teaching and training future researchers and practitioners.
"I am so excited to be awarded this honorary degree from Ben-Gurion University. I am proud to be establishing an endowed scholarship to help Israeli students in perpetuity," says Dr. Westheimer. "And, the secret is, everyone who donates gets good sex for life."
Click arrow to watch video.
Throughout her life and career, Dr. Ruth has maintained her commitment to the Jewish people and Israel. She was separated from her family in 1938 and was sent on a Kindertransport to Switzerland by her parents who later perished in the Holocaust. After World War II, at age 17, she went to Palestine where she fought and was seriously wounded in Israel's War for Independence as a sniper in the Haganah, the Jewish freedom fighters.
"I am an orphan of the Holocaust and was in Israel in 1948 when David Ben-Gurion declared the State of Israel," says Dr. Westheimer. "We danced all night. I would have loved to have met him because he was both brilliant and short. I am delighted to have a scholarship for the University that bears his name as Israel's founding father and first prime minister. I just love BGU!"
BGU President Prof. Daniel Chamovitz says,"How fitting that a woman of Dr. Ruth's stature, who heard David Ben-Gurion announce the new State of Israel as a young woman in Israel in 1948, will receive an honorary degree from the University that bears his name seven decades later amidst a long and distinguished career. It is a great honor for BGU to recognize her achievements during our 50th anniversary."
With an uninhibited approach to sex education and therapy, Dr. Westheimer, 91, transformed the conversation around sexuality for nearly four decades. She has appeared on hundreds of television shows as an expert on human sexuality, traveled worldwide giving speeches and lectures, and just published her 45th book. Earlier this year, the critically acclaimed documentary, "Ask Dr. Ruth," in which she reflects on her life and career, debuted last year and is now available on Hulu.
Dr. Ruth's media career began in 1980 when her radio show, "Sexually Speaking," premiered on WYNY-FM in New York City. By 1983, it was the area's top-rated radio show, and in 1984 NBC radio began syndicating it nationwide as the "Dr. Ruth Show," which ran until 1990.
"Dr. Ruth is incredibly deserving of an honorary degree for all she has accomplished. She has impacted the lives of people around the world by bringing human sexuality into public discourse," says Doug Seserman, chief executive officer of American Associates, Ben-Gurion University of the Negev.
"And her uncanny energy is a true force of nature. Dr. Ruth is more productive today than most people half her age," Seserman adds.
Dr. Westheimer received her Ed.D. degree from Columbia University's Teacher's College as well as an M.A. in sociology from the New School for Social Research. She also taught at Princeton University, Yale University, Columbia University, Adelphi University, Lehman College, Brooklyn College, and West Point.
To make a tax-deductible donation to this scholarship fund for psychology, go to www.aabgu.org/dr-ruth or write a check made out to Americans for Ben-Gurion University and send to:
American Associates, Ben-Gurion University of the Negev (Americans for Ben-Gurion University)
Attn: Dr. Ruth Scholarship
1001 Avenue of the Americas, 19th Floor
New York, NY 10018
See article in The Jerusalem Post>>
Read follow-up interview with Dr. Ruth on From the Grapevine>>
ABOUT AMERICANS FOR BEN-GURION UNIVERSITY
By supporting a world-class academic institution that not only nurtures the Negev, but also shares its expertise locally and globally, Americans for Ben-Gurion University engages a community of Americans who are committed to improving the world. David Ben-Gurion envisioned that Israel's future would be forged in the Negev. The cutting-edge research carried out at Ben-Gurion University drives that vision by sustaining a desert Silicon Valley, with the "Stanford of the Negev" at its center. The Americans for Ben-Gurion University movement supports a 21st century unifying vision for Israel by rallying around BGU's remarkable work and role as an apolitical beacon of light in the Negev desert.
About Ben-Gurion University of the Negev
Ben-Gurion University of the Negev embraces the endless potential we have as individuals and as a commonality to adapt and to thrive in changing environments. Inspired by our location in the desert, we aim to discover, to create, and to develop solutions to dynamic challenges, to pose questions that have yet to be asked, and to push beyond the boundaries of the commonly accepted and possible.
We are proud to be a central force for inclusion, diversity and innovation in Israel, and we strive to extend the Negev's potential and our entrepreneurial spirit throughout the world. For example, the multi-disciplinary School for Sustainability and Climate Change at BGU leverages over 50 years of expertise on living and thriving in the desert into scalable solutions for people everywhere.
BGU at a glance:  
20,000 students | 800 senior faculty | 3 campuses | 6 faculties: humanities & social sciences, health sciences, engineering sciences, natural sciences, business & management, and desert research.
Media Contact:
Brian Sherry
Stern Strategy Group
908-325-3860