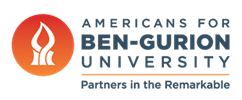 TOI: BGU Scholar Pioneers Arabic Program to Build Peace
July 19, 2022
Israel Studies, Culture & Jewish Thought, Social Sciences & Humanities
The Times of Israel — "We need to have a reform in the way that we teach Arabic," said Dr. Yonatan Mendel, an Arabic scholar at Ben-Gurion University of the Negev who co-authored a 2020 report on the state of Arabic knowledge among Jewish Israelis for the Van Leer Institute in Jerusalem. In an effort to deal with the issue, Mendel and others have pioneered a new program at Ben-Gurion University aimed at filling holes left by standard Arabic instruction in Israel.
According to the most recent figures available, in 2011, only 11.5% of Jewish Israelis over 20 had "any knowledge" of Arabic. Of those, one in four consider Arabic their native language, according to a Knesset research report released earlier this year. The Van Leer report, meanwhile, found that only 1% of Jewish Israelis were fluent in Arabic, defined as being able to read a book.
Across the country, rates of Arabic instruction are falling even as some urge policymakers to make it a mandatory second language, much like English. While some reformers have sought to make Arabic instruction mandatory in schools, students and others say even the classes that are being offered are not preparing students to be able to use the language outside of an academic setting.
Ben-Gurion University of the Negev is at the forefront of a revolution to teach Arabic as a "living" language instead of a "dead" one. BGU's new program is focused mainly on conversational Arabic, rather than methods of deciphering literary Arabic, and teaches in the language of instruction to simulate immersion, unlike high school programs that rely on Hebrew.
"Arabic in Israel is still being taught in a conservative, traditional way," Mendel added, making it little surprise that "most Israelis who learn Arabic don't have practical skills." "Arabic is really connected to Israel, 20% of our population is Arab. I want to communicate with them," said Yotam, who is a student in the program.
Read more from The Times of Israel >>