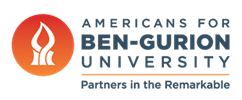 BGU Expert Uncovers Medieval Jewish History in Germany
January 8, 2020
HAARETZ — A centuries-old Jewish artifact was recently discovered near a building that once housed a bakery in Cologne, Germany. Etched on a slate in neat Hebrew are people's names, and alongside them letters that represent numbers.
"It's a list of debts to a grocery store," says Dr. Ephraim (Effie) Shoham-Steiner of Ben-Gurion University of the Negev, an expert on Ashkenazi Jewish history. "Yaakov Bona, whose name hints that either he or his family came from the nearby city of Bonn, is one of the people listed as owing a debt," Dr. Shoham-Steiner says.
The item was found in digs that have been going on for more than a decade in Cologne's city center in search of remnants of a Jewish community that flourished in the Middle Ages. About 400 such texts have been found, but only around half are legible and decipherable.
Scholars are divided on whether this language is essentially an early form of Yiddish. The writing was etched on the slates with a nail-like chisel. The texts were written in the first half of the 14th century. "They're written in Hebrew letters – some are in Hebrew and some are in German, written with Hebrew letters," Shoham-Steiner says.
The writing helps reveal a vibrant world where Jews weren't outsiders, in a city that provided a secular alternative to other Jewish communities in Germany at the time.
One objective of Dr. Shoham-Steiner's research, which is supported by the Israel Science Foundation, is to highlight "the very close ties between the Jews and their Christian environment," he says. "I want to challenge the notion that the Jews are 'a people that dwells apart' in a closed ghetto," he says.
The findings so far help to support this argument. For example, alongside a mikveh found in excavations done in the 1950s, the new dig has uncovered a bathhouse that was used by both Jews and non-Jews. Also, in the late 19th century, a kind of neighborhood register from medieval times was found; it shows that the Jewish quarter wasn't inhabited exclusively by Jews.
"Jews rented houses to non-Jews, too," Shoham-Steiner says. "These findings could be fruitful material for a discussion on Jewish-German relations past, present and future."
Another interesting text found in the dig is a fragment from a Yiddish-language novel; the artifact could be the oldest literary text in this language ever discovered. It is believed to have been written in the 14th century before 1349, the year a mob attacked the Jewish quarter, torched the synagogue, killed and wounded Jews, and plundered their property due to a libel alleging the Jews had spread the Black Plague that killed tens of millions of Europeans.
The Jewish community was wiped out. Survivors were expelled from the city, and a Jewish presence was only revived there in 1372. This newer version of the community more closely resembled the other Jewish communities in Germany, with a strong rabbinic presence. But in 1424 the Jews were expelled from the city once again, bringing the medieval Jewish community of Cologne to an end. Jewish life didn't resume there until after the French Revolution.
Dr. Shoham-Steiner is the only Israeli researching the current project on Jewish life in medieval Cologne.
Read more on the HAARETZ website >>