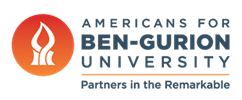 BGU Methodology Measures Trauma From Rocket Attacks
June 22, 2021 - Summarized from Jewish News Syndicate
Israel Studies, Culture & Jewish Thought, Negev Development & Community Programs, Research News
Jewish News Syndicate – Researchers at Ben-Gurion University of the Negev (BGU) have developed the first methodology to assess symptoms associated with continuous exposure to traumatic stress from rocket attacks and other security threats not currently measured by diagnostic criteria.
Published in the journal PLOS ONE, the study identified three distinct factors: exhaustion/detachment, rage/betrayal and fear/helplessness.
In the study, researchers studied respondents who lived in communities bordering the Gaza Strip in southern Israel, where frequent rocket fire requires them to find shelter in 30 seconds or less. Researchers compared the concurrent validity of CTSR relative to the Post-traumatic Diagnostic Scale (PDS).
"Exposure to ongoing life risk exists wherever people experience continuous terror, rampant crime and civil war," says lead researcher Dr. Aviva Goral, a graduate of BGU's School of Public Health, Faculty of Health Sciences, and a researcher at the PREPARED Center for Emergency Response Research.
"These findings imply that it is not exposure to ongoing threats per se, but rather the level of perceived threat (i.e., likelihood of injury or harm) that accounts for the difference in the prevalence and severity of CTSR stress symptoms," says Goral.
Professor Limor Aharonson-Daniel, head of PREPARED and Goral's Ph.D. supervisor, notes that "future research will include international implementation in various languages and with other populations exposed to ongoing conflict or persistent civil war (e.g., Syria)."
"This study could benefit Israel and people around the world who suffer from continuous trauma and related symptoms," says Doug Seserman, chief executive officer of Americans for Ben-Gurion University. "We look forward to seeing new research and development from BGU that continues to build off of this work."