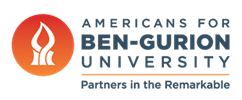 Meet BGU's Smart Robots
April 4, 2018
The Jerusalem Report — Robotics researchers from Ben-Gurion University of the Negev are featured prominently in a recent article about a variety of "smart robots" being developed in Israel.
For example, meet Rooster, one of the latest autonomous robots invented by RoboTiCan, a company started in 2011 by BGU students.
It looks like a plastic, geometric expandable ball for children. But, it's actually a powerful communications device that can help search and rescue teams reach injured victims of natural disasters or terror attacks, where it is not safe to send human rescue workers.
"Roosters set up their own wireless communications network," not dependent on a cellular connection, which may not be available in times of disaster, explains Ofir Bustan, RoboTiCan chief operating officer and BGU graduate.
The company has also developed Komodo, a multipurpose unmanned ground vehicle (UGV) robot; ARMadillo, a
one-armed autonomous assistive robot; and KREMBOt, an intelligent swarm robot.
The article also featured the work of Dr. Shelly Levy-Tzedek, head of the Cognition, Aging and Rehabilitation Lab in BGU's Department of Physical Therapy and a member of the Zlotowski Center for Neuroscience.
She has been focusing her research on robots for rehabilitation patients who need to practice at home due to rehabilitation therapist shortages. Dr. Levy-Tzedek is designing robot companions to encourage patients to practice and to track their progress.
In her clinic, she is using a social robot named Pepper, a child-sized robot (about three foot, four inches) with a human face that can talk and move in ways similar to a human. With Pepper, she is testing interactions with robots over time to see if these interactions really improve functions like opening jars, slicing bread and picking up cups of water.
"We want to see if the patients improve because of interacting with robots," she says. "If working with robots proves to be more beneficial than self-practice, then the first step would be 'employing' robots full-time in clinics."
Another team of BGU researchers developed a robotic arm called MASR, which stands for minimally actuated serial robot. This minimalist robot can travel along a structure and rotate the joint it needs to flex.
Dr. David Zarrouk, a lecturer in BGU's Department of Mechanical Engineering and head of the Bio-Inspired and Medical Robotics Lab, says he could see MASR being used imminently in agriculture or other related industries. For example, MASR could be used for picking fruit.
Dr. Levy-Tzedek says people are always concerned that robots will take their jobs. If hotels are being manned by robots and farmers no longer need to pick their own produce, how will humans be employed?
"This was also true at the time of the industrial revolution, but jobs were not lost, they were changed," says Levy-Tzedek.
"Machines took over dull, dirty and dangerous jobs. The same will be true with the robotics revolution. There will be many new job opportunities opening for those people who can manage in the world of robots."
By Maayan Hoffman, a fellow of Americans for Ben-Gurion University's 2018 Murray Fromson Journalism Fellowship