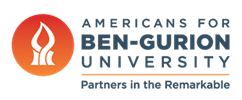 Folding Car Aims to Solve Parking Woes
March 29, 2018
Business & Management, Robotics & High-Tech
J. — You unplug your electric vehicle at home and head off into the crowded city. There's nowhere to park, but instead of fruitlessly circling the block, you merely press a button and your car pulls in its wheels to become a compact mini-vehicle that can fit in a tiny parking place. You get out, happy and unstressed, to start your day.
Or that's the idea, anyway. It's certainly the dream behind City Transformer, a new electric "foldable car" created by BGU mechanical engineering alumni Drs. Asaf Formoza and Gideon Goldwine with their sights on an international market. Dr. Goldwine, chief technology officer, was also co-founder of the BGU student team that built the first Israeli Formula SAE car.
"You can drive it as a car, but when you park it, you park it like a motorcycle," explains Dr. Formoza, City Transformer's chief executive officer.
The City Transformer isn't technically a car, says the company's Chief Development Officer Eyal Cremer. It's a quadricycle, which is subject to different regulations than those of a regular car.
It has two modes: one with its wheels extended, and one with its wheels tucked in. The car can be driven both ways, but when the wheels are extended, it drives more like a car in terms of stability and deliberately takes up more space to be more visible on the road. To park, it just pulls its wheels in.
In the U.S., the City Transformer would be considered a "neighborhood electric vehicle," or NEV, which comes with some serious regulations. In California, they can't be used on streets with a speed limit over 35 miles per hour, even if the NEV is going below that.
There are already NEVs on the market, like the Scoot Quad, which you can already rent in San Francisco and is made by Nissan. The difference with the City Transformer is the transforming part — the base upon which it's built, and which houses all of the really important technology, according to Cremer. That means any type of chassis can be dropped on top.
But whether its dual possibilities will be enough to set the City Transformer ahead of its competitors is hard to tell. The company has a prototype, which unfolds and folds as promised, but the City Transformer isn't on the market yet, in spite of the fact that the website is taking pre-orders. But the management knows it can't linger.
"In order to succeed we have to get to the market in two years," says Dr. Formoza.
The company is banking on the pain of parking to push demand for its product. The idea behind the folding car actually came from Formoza's BGU roommate, co-founder Gideon Goldwine, who, griping about the horrible parking in Tel Aviv, said he wished there was a car that folded up into a suitcase.
In fact, research backs up Goldwine's complaint. It's bad enough that Dr. Eran Ben-Elia, head of BGU's GAMES Lab, is using game-based models to study how people park and at what point they might choose to park farther away verses pay more for a spot. The idea is to reduce "cruising," the stressful habit of circling blocks looking for a space.
Studies in San Francisco have found cruising to be a serious problem. According to a 2017 report by INRIX, a transportation research company, San Francisco drivers spend 83 hours a year cruising around just to find a parking spot.
The City Transformer team thinks a folding car could alleviate parking problems, such as cruising, worldwide.
By Maya Mirsky, a fellow of Americans for Ben-Gurion University's 2018 Murray Fromson Journalism Fellowship
Read more on the J. — The Jewish News of Northern California website >>