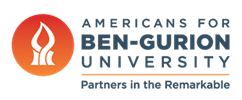 BGU Spurs Development Of Israel's Negev Desert Region
July 5, 2023
Negev Development & Community Programs, Robotics & High-Tech
The Detroit Jewish News – Israel is well-known and admired worldwide as a center for high technology and the creation of new companies in numbers far beyond what would be expected of a small nation. And BGU is a leading catalyst for this economic progress in the Be'er Sheva desert region.
University scientists are developing new technology for medicine, bioengineering and robotics, using innovative software and data analytics that are being patented and marketed in Israel and beyond. From tissue regrowth using algae to the creation of user-friendly robots to aid stroke rehabilitation, BGU scientists are creating new knowledge to reshape health care, transportation and manufacturing.
The university also fosters research and economic development as a partner with the city of Be'er Sheva in its Advanced Technologies Park (ATP), located near BGU's main campus. Begun three years ago, the ATP already has five office buildings with 1,500 employees of both new Israeli companies as well as such international corporations as Oracle and Deutsche Telecom.
The Israeli army plans to bring cyber and intelligence units to Be'er Sheva, which will intensify the area's technology focus.
Read more on The Detroit Jewish News >>