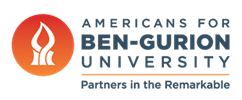 Israel Invests in Student Entrepreneurship
January 9, 2019
Negev Development & Community Programs, Press Releases
The Council of Higher Education has awarded a NIS 6 million ($1,634,100) grant to Ben-Gurion University of the Negev for the establishment of Yazamut 360°, an interdisciplinary center for entrepreneurship that will host activities to encourage students, faculty members and researchers to develop and hone their entrepreneurial skills.
The center will be chaired by Prof. Carmel Sofer of BGU's Departments of Brain and Cognitive Sciences and Industrial Engineering and Management, who was a high-tech investor for 25 years, and led by Dana Gavish-Fridman, vice president for entrepreneurship at BGN Technologies, the BGU technology-transfer company.
"This grant is a gratifying vote of confidence in BGU's future and our ability to guide energetic, intelligent students, faculty members and residents of the Negev region as they turn their ideas into solid businesses," says BGU President Prof. Daniel Chamovitz.
The new hub, which will be located at the center of the Marcus Family Campus, is part of BGU's long-term plan to enhance the University's innovation ecosystem.
"The establishment of this center as an empowering meeting place will provide students and researchers alike with a wide variety of tools and skills to connect with the business community," says Prof. Sofer.
The center will become a work space for the University's 20,000 students, researchers and 130,000 graduates. It will run courses, hackathons and initiatives that connect the developers to the nation's startup ecosystem, while also fostering the cross-fertilization of ideas by boosting cooperation between members of different faculties, such as management, engineering and medicine.
"Entrepreneurship and creativity, together with community outreach and a commitment to participate in the social, business and economic life of the Negev region, has been a critical part of BGU's raison d'être since the University was founded," says Prof. Chamovitz.
Yazamut 360° will also act as a facilitator of various new initiatives such as Cactus Capital, the University's student-run venture capital investment fund. Students will be able to pitch their technologies to the fund and get investments ranging from $5,000 for ideas to $20,000 for more developed startups. BGU is providing $1 million to this fund to help student entrepreneurs get their startups off the ground and provide those students who are running the fund with valuable experience as they mull a variety of investments.
"We need to change the way we educate our students," Gavish-Fridman says. "Employers today wish to see a lot of experience, not just academic achievements. We need to connect our students to the commercial world, and make sure they get that exposure."
Yazamut 360° will also support Forum 80-20, a voluntary organization led by student entrepreneurs from BGU's Department of Industrial Engineering and Management.
Together with BGN Technologies, Yazamut 360° will enhance business relationships and further strengthen the BGU-private sector innovation ecosystem.
ABOUT AMERICANS FOR BEN-GURION UNIVERSITY
By supporting a world-class academic institution that not only nurtures the Negev, but also shares its expertise locally and globally, Americans for Ben-Gurion University engages a community of Americans who are committed to improving the world. David Ben-Gurion envisioned that Israel's future would be forged in the Negev. The cutting-edge research carried out at Ben-Gurion University drives that vision by sustaining a desert Silicon Valley, with the "Stanford of the Negev" at its center. The Americans for Ben-Gurion University movement supports a 21st century unifying vision for Israel by rallying around BGU's remarkable work and role as an apolitical beacon of light in the Negev desert.
About Ben-Gurion University of the Negev
Ben-Gurion University of the Negev embraces the endless potential we have as individuals and as a commonality to adapt and to thrive in changing environments. Inspired by our location in the desert, we aim to discover, to create, and to develop solutions to dynamic challenges, to pose questions that have yet to be asked, and to push beyond the boundaries of the commonly accepted and possible.
We are proud to be a central force for inclusion, diversity and innovation in Israel, and we strive to extend the Negev's potential and our entrepreneurial spirit throughout the world. For example, the multi-disciplinary School for Sustainability and Climate Change at BGU leverages over 50 years of expertise on living and thriving in the desert into scalable solutions for people everywhere.
BGU at a glance:  
20,000 students | 800 senior faculty | 3 campuses | 6 faculties: humanities & social sciences, health sciences, engineering sciences, natural sciences, business & management, and desert research.
For all press inquiries, please contact:
James Fattal, J Cubed Communications
516.289.1496