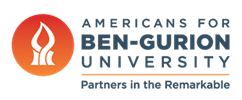 Introducing BGU's New President
January 1, 2019
Leadership, Awards & Events, Press Releases
Prof. Daniel (Danny) Chamovitz assumed the presidency of Ben-Gurion University of the Negev (BGU) on January 1, succeeding Prof. Rivka Carmi, who completed three productive four-year terms.
Prof. Chamovitz [Sham-a-vitz], a native of Aliquippa, Pennsylvania, most recently served as dean of the George S. Wise Faculty of Life Sciences at Tel Aviv University (TAU).
While at TAU, Chamovitz founded its Manna Center Program for Food Safety and Security and was awarded the prestigious Alon Fellowship for outstanding young researchers. Passionate about teaching, he was also repeatedly named "Outstanding Lecturer."
"BGU has a different mandate from any other university in Israel," Prof. Chamovitz says. "Of course, we must aim for research excellence – that is the essence of academia. At the same time, however, we must take care not to detract from our ability to impact the wider community, in Beer-Sheva and throughout the Negev region.
"We will strive for excellence in the three main areas that define Ben-Gurion University of the Negev: research, education and social outreach – the realization of the vision for the Negev by the man whose name this institution bears."
Doug Seserman, chief executive officer of American Associates, Ben-Gurion University of the Negev (Americans for Ben-Gurion University), says, "On behalf of the board and staff of Americans for Ben-Gurion University, I welcome Prof. Chamovitz and look forward to partnering with him on the continued development of BGU during such an exciting time of innovation and growth of Beer-Sheva and the region. He clearly has the leadership skills, know-how and charisma to further drive academic success and continue the evolution of the University and the region.
"It is also bittersweet to be saying farewell to Prof. Rivka Carmi," he adds. "Her vision and dedication have transformed the University and the Negev region into a research and technology powerhouse over the last 12 years. She has also been a major force in empowering the women of Israel. It has been a true pleasure to know her and work with her."
In assuming the role as president, Prof. Chamovitz believes that BGU has a tremendous advantage — its students. "They certainly have keen eyes to identify the human and environmental capital that give this region so much potential, and I'm looking forward to working together with them to maximize it.
"Also, our modern Marcus Family Campus, which will be enhanced with the new North Campus, and the Advanced Technologies Park, provide private sector interaction and opportunities we could have only dreamt about in the past."
Prof. Chamovitz has published more than 50 academic articles and book chapters and serves on the editorial boards for several leading academic journals in his field. His critically acclaimed book, "What a Plant Knows (2012)," has been translated into 18 languages and was voted Top 10 on Amazon.
Prof. Chamovitz immigrated to Israel in 1984. He received his Ph.D. in genetics and a B.Sc. in biology from The Hebrew University of Jerusalem. In 1995, he completed his postdoctoral research at Yale University.
ABOUT AMERICANS FOR BEN-GURION UNIVERSITY
By supporting a world-class academic institution that not only nurtures the Negev, but also shares its expertise locally and globally, Americans for Ben-Gurion University engages a community of Americans who are committed to improving the world. David Ben-Gurion envisioned that Israel's future would be forged in the Negev. The cutting-edge research carried out at Ben-Gurion University drives that vision by sustaining a desert Silicon Valley, with the "Stanford of the Negev" at its center. The Americans for Ben-Gurion University movement supports a 21st century unifying vision for Israel by rallying around BGU's remarkable work and role as an apolitical beacon of light in the Negev desert.
About Ben-Gurion University of the Negev
Ben-Gurion University of the Negev embraces the endless potential we have as individuals and as a commonality to adapt and to thrive in changing environments. Inspired by our location in the desert, we aim to discover, to create, and to develop solutions to dynamic challenges, to pose questions that have yet to be asked, and to push beyond the boundaries of the commonly accepted and possible.
We are proud to be a central force for inclusion, diversity and innovation in Israel, and we strive to extend the Negev's potential and our entrepreneurial spirit throughout the world. For example, the multi-disciplinary School for Sustainability and Climate Change at BGU leverages over 50 years of expertise on living and thriving in the desert into scalable solutions for people everywhere.
BGU at a glance:  
20,000 students | 800 senior faculty | 3 campuses | 6 faculties: humanities & social sciences, health sciences, engineering sciences, natural sciences, business & management, and desert research.
For all press inquiries, please contact:
James Fattal, J Cubed Communications
516.289.1496