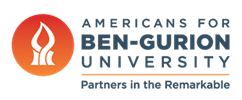 BGU's Etgar Keret Wins Prestigious Sapir Prize
January 30, 2019
Leadership, Awards & Events, Press Releases, Social Sciences & Humanities
Etgar Keret, renowned Israeli author and lecturer in the Department of Hebrew Literature at Ben-Gurion University of the Negev (BGU), has received Israel's most prestigious literary award, the Sapir Prize, for his collection of short stories, "A Glitch at the Edge of the Galaxy."
"I'm surprised…it's the happiest thing in the world. But like love or gifts, it's not something you can strive for. It just happens," Keret said. "Israeli book prizes are much more important to me than literature prizes awarded overseas. This is the language I write in; this is where I live, and that's the most important thing."
The Sapir Prize carries a $47,000 (NIS 150,000) cash award, and support for the book's translation into two languages: Arabic, and a language of the author's choosing.
Ben-Gurion University President Prof. Daniel Chamovitz congratulated Keret, saying the author's work is both a valuable window into Israeli society and a badge of honor for the University.
"Etgar's stories combine so many compelling elements – everyday life with fantasy, humor with seriousness, comedy with tragedy and more," Prof. Chamovitz said. "The writing workshops he leads at BGU are very popular and are a vibrant element of our campus life." This year he is teaching Writing Secrets: Prose for Beginners for undergraduates, and Writing for Children for graduate students.
"A Glitch at the Edge of the Galaxy," published in Hebrew by Kinneretz Zmora-Bitan Dvir, features 24 short stories of varying lengths. The stories, written in clear, everyday Hebrew, touch on a range of emotional issues in Israeli society: Holocaust remembrance, euthanasia, loneliness, and intellectual disability. Other selections tackle lighter subjects. One follows a goldfish who jumps out of his aquarium home in the middle of the night to watch television.
According to the panel of judges, headed by Prof. Orna Ben-Naftali, "The book touches on the essence of the experience of disrupting the world order. Using language that appears at first glance to be 'light,' Etgar Keret displays a deep sense of sadness. His various characters are connected to each other through alienation, loneliness, and a strong sense of being abandoned in the world, while at the same time craving love and intimacy. In the stories of this collection, Keret presents the short story genre as the refined and necessary literary expression of this time."
Etgar Keret was born on August 20, 1967 in Ramat Gan, near Tel Aviv. His main works have been short stories, but he has also written movie scripts, poetry, plays,and comics. Among the works that have been translated into English are: "The Bus Driver Who Wanted to be God" (2003); "One Last Story and That's It" (2005); "Missing Kissinger" (2007); "The Girl on the Fridge" (2008); "Kneller's Happy Campers" (novella, 2009); "Suddenly, a Knock on the Door" (2012); "The Seven Good Years" (2015); and "Pizzeria Kamikaze" with Asaf Hanuka (graphic, 2018).
His work has also been translated into French, Spanish, Italian, German, Russian, Norwegian, and Swedish. He is married to artist Shira Geffen.
ABOUT AMERICANS FOR BEN-GURION UNIVERSITY
Americans for Ben-Gurion University plays a vital role in maintaining David Ben-Gurion's vision of an "Oxford in the Negev." By supporting a world-class academic institution that not only nurtures the Negev, but also shares its expertise locally and globally, Americans for Ben-Gurion University engages a community of Americans who are committed to improving the world. The Americans for Ben-Gurion University movement supports a 21st century unifying vision for Israel by rallying around BGU's remarkable work and role as an apolitical beacon of light in the Negev desert.
Media Contact:
Andrew Lavin
A. Lavin Communications
516-944-4486
[email protected]