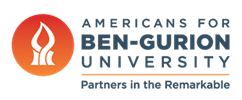 Israel Leads the Battle Against Climate Crisis
February 24, 2023
Desert & Water Research, Sustainability & Climate Change
The Jerusalem Post — Israel is uniquely positioned to help combat the climate crisis, according to Michael Sonnenfeldt. The serial entrepreneur, investor and philanthropist – who has donated $20 million with his wife, Katja Goldman, to Americans for Ben-Gurion University (A4BGU) to establish the university's Goldman Sonnenfeldt School of Sustainability and Climate Change – was in Israel last week for the Israel Climate Change Conference. He's been investing in climate for more than 15 years and said he looks to Israel to help solve what he believes is an existential crisis.
"There are no people on the face of the planet who have survived more existential crises over their 5,000 years [of existence] than the Jewish people," Sonnenfeldt told The Jerusalem Post, "and climate change is the existential crisis of all crises."
Moreover, although "the science is settled" on climate change, according to Sonnenfeldt, solving it will take ingenuity and new technology. Israel "has the capacity to be one of the world's most innovative centers for fighting climate," he said, adding that solving the climate crisis will require coordination among the human community at an unprecedented level.
Sonnenfeldt founded TIGER 21, a peer membership group for high-net-worth entrepreneurs, investors and executives, and has been a supporter of BGU around 30 years, with his focus on climate change starting in 2007.
"I had cancer in 2007 and had about six months to think about the world," the climate-change entrepreneur shared. "I was in treatment, and I came to believe that climate would become the defining issue of our time. So I wanted to combine philanthropy, investment and politics around climate to make a difference."
Before naming the climate school, he established BGU's Sonnenfeldt-Goldman Career Development Chair in Desert Research. In addition, he named the Joya Claire Sonnenfeldt Auditorium and the Forest Goldman-Sonnenfeldt Building for Solar Energy and Environmental Physics. "The sad truth is that there will be no silver-bullet solution" for climate change, which will take a lot of coordinated effort. But "we are not doomed," he said: "The problem is solvable."
Read more on The Jerusalem Post >>