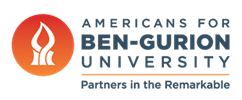 Prestigious SBIFF to Screen "Who Are the Marcuses?"
January 26, 2023
Jewish News Syndicate — A documentary that reconstructs the lives of Holocaust refugees Lottie and Howard Marcus, who made the largest-ever charitable donation to an institution based in Israel, will screen at the Santa Barbara International Film Festival next month. "Who Are the Marcuses?" reveals the mystery behind an unassuming couple from Great Neck, N.Y., with a passion for Ben-Gurion University of the Negev (BGU) and its innovation through water technology.
"The Marcuses were humble visionaries who saw the importance of water research not only as vital to Israel's self-sufficiency but as a strategy to achieve peace through shared natural resources," said Doug Seserman, CEO of Americans for Ben-Gurion University. "Their transformative generosity will be felt for generations to come."
"Who Are the Marcuses?" also features Warren Buffet, President of Israel Isaac Herzog, historian Daniel Gordis, best-selling philosopher Micah Goodman, and an original score by legendary musician and peace activist David Broza.
The documentary made its sold-out world premiere at the Newport Beach Film Festival in California last October and went on to screen at the United Nations climate change conference COP27 in Sharm El Sheikh, Egypt, before coming to Santa Barbara. From Santa Barbara, the film continues its journey in Memphis, Colorado and New York among other cities.
"Our film has powerful messages about climate change, water technology, the environment, and philanthropy that can change our world," said the film's director and University of California, Santa Barbara alumnus Matthew Mishory. "But films are also about storytelling, and this one tells a story so unbelievable and inspiring, it can only be true. Screening at Santa Barbara is a homecoming for me and a dream come true for the production team. The region is both a growing eco-technology hub and fragile coastal system."
Two screenings of "Who Are the Marcuses?" will take place on Feb. 13 and 15 at the Santa Barbara International Film Festival. Visit our events page to find a screening near you.
Read more on Jewish News Syndicate >>