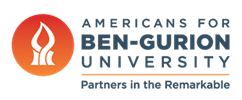 BGU Scientist Encourages Space Science For Young Girls
March 15, 2023
Desert & Water Research, Sustainability & Climate Change
FOX 34 — Shimrit Maman, Senior Scientist and Director of the Earth and Planetary Image Facility from BGU, created She Space International, giving girls a hands-on learning experience and a glimpse at what their future could look like in STEM. She visited Texas Tech University in Lubbock, Texas, to introduce the program to girls as young as 14 years-old.
The program is in its third year in Lubbock. Each year girls complete a 6-month study, working to answer a question related to climate change within our borders.
Currently, eight countries around the world participate in the educational program for girls 14 to 16 years old. Maman was inspired to create the program after researching for a satellite project and noticing she was consistently the only female scientist in the room.
"She Space is a program that encourages girls just to try. You don't have to, we don't make them do anything. Just come and try, experience what it is to be a scientist. Come and join us for interacting with international groups. Come and try and we do our best to make it really fun," Maman said.
Amarachi Uche-Eboh, a sophomore at Talkington School for Young Women Leaders, participated in the program two years ago. Now, she's serving as a student mentor.
"She Space International has been a breakthrough for me. I've gotten so many connections. I've gotten to meet girls around the world and dive into an all-female environment and it's comforting to see females, high female leaders scientifically, and it inspires me to one day be in that position," Uche-Eboh said.