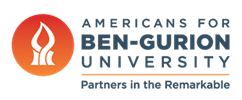 IDF Selects Firms to Build Tech Campus Next to BGU
June 25, 2018
Negev Development & Community Programs
The Times of Israel – The Israel Defense Forces has selected the two construction firms, Shikun & Binui and Africa Israel (AFI Group), to build its new tech campus in the Ben-Gurion Advanced Technologies Park, adjacent to Ben-Gurion University's Marcus Family Campus. As part of a multiyear plan of streamlining and digitizing, the IDF plans to relocate many of its units to the area.
The campus will serve some 5,000 soldiers and career officers from the IDF's intelligence units, including its cybersecurity units, which will relocate from the center of the country. One of the projects that is already operational is the setting up of a training center that hosts some 10,000 soldiers and career officers.
"We are following the vision of [Israel's first Prime Minister David] Ben-Gurion," says Lt.-Col. Itai Sagi, who heads the branch responsible for establishing the IDF's C4i (command, control, communications, computers, and intelligence) and cyber defense campus. "We are moving the best people to the Negev."
The army also hopes that the campus will lead to a flourishing of the local economy, through the employment of hundreds of workers and the creation of new jobs around the campus.
Soldiers will have close relations with BGU researchers, leading to joint projects and a fertile exchange of ideas. All of this will strengthen the Beer-Sheva metropolis as a new technology center in Israel, with an emphasis on cybersecurity and digitization, IDF officials say.
The new base, the IDF's first technological project in the south of Israel, is touted as being at the cutting edge of digitization, with smart and energy-efficient buildings and advanced infrastructure.
Prof. Brig.-Gen. (Ret.) Jacob Bortman, of BGU's Department of Mechanical Engineering, is heading up the University's preparations for the IDF's new campus. Prof. Bortman, who served for a long period in the IAF, joined the academic world nine years ago.
Read more on The Times of Israel website >>