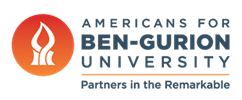 BGU Launches the "Green Trail"
June 28, 2018
Leadership, Awards & Events, Negev Development & Community Programs
It was an exciting day on the Ben-Gurion University Marcus Family Campus, when BGU President Prof. Rivka Carmi and Green Council Heads Prof. Yaron Ziv and Sagi Langer inaugurated the G​reen Trail as the next step in the Green Campus initiative.
"The Green Campus initiative is not a simple undertaking. It comprises many different areas and aspects. It is also remarkable that a desert campus such as ours has managed to achieve so much," says Prof. Carmi.
"One of the goals of the University's involvement in this area is to educate those who did not grow up with the awareness of the need to take care of the environment. This trail is an outstanding example and an excellent opportunity to promote environmental responsibility."
The Green Trail is comprised of 11 stations that highlight the eco-friendly aspects of BGU's campus. The trail starts at a solar-powered charging station opposite the Zlotowski Student Center.
Other stations cover the University's efforts to conserve electricity, recycle and encourage the use of bicycles, among other things.
The Sir John and Lady Cohen pools at the Jacqueline Ann Ayrton Sports Hall are now largely heated by solar energy. Not only is it more environmentally friendly than the diesel gas they were using before, but the heating costs dropped from almost NIS 1 million (~$237,446) to NIS 30,000 (~ $8,203) annually.
Another station explained why the University chose to cover all south and east facing windows on campus with a film that reduces heat from sunlight. As a result, air conditioning use has dropped two percent since the project was completed in 2015.
The Green Trail also offers information about bird-watching on campus and BGU students' efforts to beautify the surrounding neighborhoods of Beer-Sheva through the Community Action Department.
"In the coming days, footprints will be laid leading up to each station to intrigue students, faculty, staff, and visitors traversing the campus," says Prof. Ziv, of the Department of Life Sciences.
BGU has the most advanced green campus program of any Israeli higher education institution. It ranks high in the UI GreenMetric global rankings, an initiative by the Universitas Indonesia to give credit to those that are reducing the carbon footprint.
"The full support of the entire administration for the Green Campus is not to be taken for granted – this is what differentiates us from other institutions," says Langer, BGU chief marketing officer.