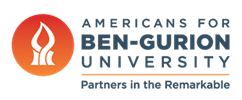 BGU Welcomes AJC Global Forum Delegation
June 14, 2018
Leadership, Awards & Events, Negev Development & Community Programs
For many, it was their first time to visit Ben-Gurion University. And they left impressed.
On June 12, BGU opened its doors to a 90-person delegation from the American Jewish Committee's Global Forum eager to learn how the University has become the catalyst behind the development of Beer-Sheva and the Negev. Their visit included a trip to BGU's Advanced Technologies Park as well as the opportunity to get up close and personal with some of BGU's research – an autonomous submarine, an autonomous chauffeur, a Formula SAE racecar and much more.
The AJC delegation met with BGU President Prof. Rivka Carmi, the first woman to head an Israeli research university, who presented an overview detailing how BGU has transcended the boundaries of academia to create a new model of education and research that impacts people's lives in the Negev, throughout Israel and around the world.
"I am very pleased to have had the opportunity to welcome the members of AJC's Global Forum to Ben-Gurion University, Beer-Sheva and the Negev. For many, it was their first time here and it was clear they were impressed with what they saw," says Prof. Carmi.
"Like our namesake, we are tirelessly striving for the betterment of the region and the world. Our special focus on the Negev has improved the lives of the residents of this region in countless ways over the University's 48-year history, and it was a pleasure to show them just a little bit of what we have accomplished."
Many expressed interest afterwards in getting more information about BGU and staying in touch.  Prior to the tour, the AJC Global Forum split into groups for specialized visits around the country. The trip to Beer-Sheva was one of the first to fill up.
At the Ben-Gurion Advanced Technologies Park, a burgeoning high-tech ecosystem, the AJC visitors broke off into smaller groups to hear about some of the unique initiatives in cyber security, machine learning and big data that the University is invested in, such as Deutsche Telekom Innovation Labs@BGU, the global telecommunications giant's only R&D facility outside of Germany.
They also visited CDI – The Center for Digital Innovation, a unique incubator and simulation lab for next generation health, education and smart city technology as well as  Dell-EMC, one of the first to open a Center of Excellence in Beer-Sheva employing BGU graduates for the most part.