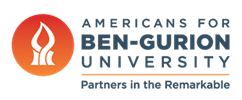 A4BGU CEO Doug Seserman Pens Column on Climate-Saving Science
April 20, 2022
Alternative Energy, Leadership, Awards & Events, Natural Sciences
JMORE — Ben-Gurion University Leads the Way in Ensuring Israel's Future, by Americans for Ben-Gurion University CEO Doug Seserman
Not far from Baltimore's Inner Harbor, a landmark highlights the long-standing Jewish presence in the city. The Lloyd Street Synagogue, built in 1845, was only the third synagogue constructed in the United States (the first being in Newport, Rhode Island, and the second in Charleston, South Carolina).
Built in a Greek Revival fashion — a common style in post-Revolutionary War America as a symbol of a new democratic world — the synagogue represented the Jewish community's future in this new land and remains as a historic marker to this day.
Of course, 177 years is but a drop in the bucket of Jewish history. One can find evidence of our footprint throughout the past millennium and stretching all the way back to when we dwelled in our homeland of Israel.
And in the land of our origins, a new future is emerging.
It was the Negev, a desert region in southern Israel, in which David Ben-Gurion, Israel's founder and first prime minister, saw the future of the country. Today, Ben-Gurion University of the Negev is indeed making strides in leading-edge scientific advancement, from brain research to space travel.
BGU is perhaps the timeliest innovations center on addressing the global challenge of climate change. The harsh desert climate of the Negev necessitated that those who live there invest in technologies of adaptation for water, food and energy security.
This knowledge has become increasingly essential for humanity as a whole in an era of rising temperatures, water and food shortages, and an urgent need to end dependence on fossil fuels.
BGU has been focused on these technologies for more than 50 years, and last year announced the creation of Israel's first School of Sustainability and Climate Change to deepen its researchers' ability to collaborate on the crucial issues facing our rapidly changing planet.
Coinciding with this precarious time for humanity is a growing ambivalence among American Jews — especially the younger generation — about Israel. A study in 2020 showed that only 48% of Jewish Americans between the ages of 18 and 29 "say that they are very or somewhat emotionally attached to Israel."
The actions of BGU in these key scientific areas can help change that narrative by highlighting a vision of Israel held by David Ben-Gurion himself. The founder of the Jewish state declared that Israel should be a "light unto nations."
Israel is fulfilling the dream of BGU's namesake by shining a light in the darkness — the light of scientific inquiry and ingenuity, forged in the desert where our people dwelled thousands of years ago looking for a path to the promised land.
At Americans for Ben-Gurion University, we work to raise awareness here in the United States of BGU's important work. The work being done in the Negev on climate change mitigation, from developing technologies to cope with water shortages to leading renewable energy advancement, has global implications. And everyone must play a part in meeting the challenge.
To that end, we are dedicating this year's free virtual event, Celebrating the Remarkable 2 on May 1 at noon EST, to the pioneering climate research led by scientists at BGU. At this event, we hope to change the conversation from arguing about what's wrong to rallying around what's right when it comes to Israel.
We are hosting this event at a pivotal time in history. Just this past February, the United Nations Intergovernmental Panel on Climate Change released its 2022 report, which indicated that we have even less time to minimize the consequences of climate change than previously believed.
The remarkable achievements we celebrate this year are also essential. Hosted by Israeli-American actress Noa Tishby, the event will showcase BGU's climate-saving science across a range of disciplines, including agricultural technology, marine biology, solar energy and viticulture. This year's event is a rare opportunity for Americans to glimpse innovations coming out of Israel that could very well help prevent the worst scenarios of the climate crisis.
We hope you will join us in our mission to fulfill Ben-Gurion's vision of Israel in the Negev. Just as the Lloyd Street Synagogue once symbolized an important fusion of Jewish and American history, BGU, through scientific innovation, can become a beacon of Jewish and human history, and can help position Israel to lead the world toward a better future.
Together, we can ensure that our collective light shines bright for years to come.
For information on "Celebrating the Remarkable 2″ or to register to attend, visit americansforbgu.org/events/ctr2/.
Doug Seserman
Doug Seserman is CEO of Americans for Ben-Gurion University, an organization aiming to engage a community of Americans who are committed to improving the world through the scientific innovation emerging from the State of Israel. Americans for Ben-Gurion University plays a vital role in maintaining David Ben-Gurion's vision of an "Oxford in the Negev" by supporting a world-class academic institution that not only nurtures the Negev, but also shares its expertise locally and globally.
The Americans for Ben-Gurion University movement supports a 21st century unifying vision for Israel by rallying around BGU's remarkable work and role as an apolitical beacon of light in the Negev desert.