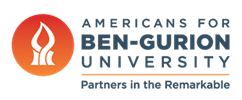 Desert Tech Community Launched in Beer-Sheva
October 15, 2020
Desert & Water Research, Negev Development & Community Programs
Globes — The Israeli Innovation Institute and the David and Laura Merage Foundation have announced the launch of a desert technology community called DeserTech.
DeserTech's mission is to promote technologies that will help "in dealing with the challenges of the desert and enlightened use of its resources for the benefit of humanity."
The community, to be located in Beer-Sheva, will operate as part of a climate change innovation center located in the Beer-Sheva innovation district, initiated by the Israeli Ministry of Environmental Protection in collaboration with BGU, the municipality of Beer-Sheva and Soroka University Medical Center.
One of the goals of the community is to transform the Negev region, and the city of Beer-Sheva in particular, into an entrepreneurial and technological hub for innovations that enable sustainable living in arid climates.
DeserTech's vision is to develop technologies in the region that will address the global desertification challenge, and make Beer-Sheva and the Negev a national and global center for these technologies.
The community is expected to work with a number of entities relevant to the field and its location, including the Ministry for Environmental Protection, the Beer-Sheva municipality, BGU, Soroka University Medical Center, the Jewish National Fund – Keren Kayeme L'Israel, the National Economic Council, and Start-up Nation Central (SNC).
"The community's goal is to create a global ecosystem centered in the Negev that will connect with entrepreneurs, investors, multinational companies, environmental organizations, academic researchers, and applied industries. We're already helping to start building a bridge to the Gulf states, which are very interested in this field," says Israel Institute of Innovation VP Doron Meller.