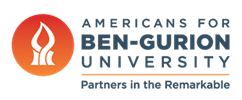 BGU Technology Filters Airborne COVID-19 Particles
September 25, 2020
Desert & Water Research, Medical Research
The Jerusalem Post — Laser-induced graphene (LIG) technology, developed by a partnership between Ben-Gurion University of the Negev (BGU) and Houston-based Rice University, is to be commercialized to make filtration systems that can filter out airborne COVID-19 particles.
The commercialization will be done by LIGC Application Ltd., a leader in the field of graphene commercialization.
"For the past five years, our lab at the BGU Zuckerberg Institute for Water Research has focused on the development of LIG, specifically in antimicrobial filtration and environmental applications," says Dr. Chris Arnusch of BGU's Department of Desalination and Water Treatment at the Zuckerberg Institute.
"We are excited to be commercializing our technology in a number of air filtration products for COVID-19 and other specialized filtration applications."
The video shows how lasers print on a sheet of graphene to create a filter or other designs.
Researchers have found a wide variety of different commercial applications for graphene, ranging from water purification to fuel cell catalysts and even combating other diseases, such as the Zika virus.
Air filtration is simply one of these possible applications – and the timing couldn't be better.
The development of an air filter that can successfully filter COVID-19 particles is especially relevant, as the ongoing global coronavirus pandemic has proven the importance of limiting the spread of the virus in indoor areas.
The filters function by creating a graphene mesh, which heats, electrocutes and neutralizes airborne pathogens and organic particles such as mold and bacteria at the micron and sub-micron levels.
All of this is done by using commercially available CO2 lasers.
Compared to existing filtration systems, such as UV-C and HEPA filters, the latter of which currently sees widespread use on aircraft, the LIG air filters are considerably more efficient, cost-effective and require far less maintenance.
In addition, the fact that LIG filters only use low-voltage electricity means that they consume far less energy compared to existing air filters.