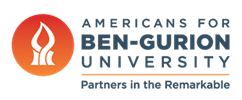 Beer-Sheva's Big Tech Break
February 24, 2014
Business & Management, Homeland & Cyber Security, Negev Development & Community Programs, Robotics & High-Tech
The Jewish Week — Establishing a technology center in Israel's economically neglected southern region was viewed as a pipe dream by many when former BGU President Prof. Avishay Braverman, now a member of Israel's Knesset, first spoke of the idea back in the 1990s.
Inspired by his alma mater Stanford University and California's Silicon Valley, Prof. Braverman lobbied the government for a train station and business park next to BGU's campus in Beer-Sheva. He also knocked on the doors of the army.
"People laughed at us," says Braverman. "Some people [in the army] said, 'How will you persuade people in Tel Aviv and Ramat Gan to move?' But others said, 'We have to do this. This is an idea whose time has come.'"
Some 14 years later, it now takes only an hour-long train ride to get from Tel Aviv to the heart of BGU's Marcus Family Campus, and tenants of Beer-Sheva's new Advanced Technologies Park (ATP) have moved into the first of 16 planned buildings in the complex, located across the street from campus.
The ATP was inaugurated by Prime Minister Benjamin Netanyahu last September, who also recently announced that Beer-Sheva is set to be the new cyber capital of Israel.
Another milestone is scheduled five years from now, when the Israeli army's technological units are slated to move to a tech campus that will be built alongside the ATP, bringing thousands of army computer whizzes from metropolitan Tel Aviv to the south.
"We're beyond the point of no return. This is happening," says Prof. Dan Blumberg, BGU's deputy vice president and dean of research and development and director of the University's Homeland Security Institute. "The military is moving, that's going to make a huge difference. Industry is coming here. Everything is coming together, and I think that we have the critical mass to bring more companies here."
BGU's profile in the cyber security field already got a major boost in recent weeks, when its student researchers working in the labs that are run jointly with Deutsche Telekom found a security vulnerability in a new operating system for Samsung phones.
"We have the best guys. They come either from the army, special organizations, or guys that are hackers by nature — people that can think like a hacker but are with the good guys," says Dudu Mimran, the chief technical officer of BGU's Cyber Security Lab.
At least one Israeli venture capital fund, Jerusalem Venture Partners (JVP) is targeting cyber security as a major area for investment: it is devoting a portion of a new $120 million fund backed by Cisco to cyber security, and is locating its cyber incubator in Beer-Sheva.
"There is nowhere else in the world where you have a full ecosystem for cyber security in such close location, where you have a defense organization, top-notch academics, multinationals, startup culture and financing," says Yoav Tzruya, a partner in JVP's CyberLabs.
"We've identified this area as an opportunity, and this is why we are in Beer-Sheva."