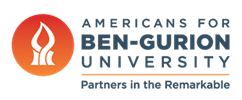 How BGU Alumnus Tal Peretz is Using AI to Change the Way We Work
December 13, 2022
An alumnus of BGU, Tal Peretz is no stranger to the power of AI; he has often demonstrated his superior command of data science, machine learning and software engineering.
After earning an MBA in technology and completing an accelerated program in mathematics and computer science at BGU, he took on the position of chief data scientist for an Israeli Air Force elite technological unit, where he formed and oversaw the team.
The GPT3, ChatGPT, and DALL-E2 AI models from OpenAI, which were just released, have drawn a lot of attention for their amazing capacity to produce speech, images, and text. In fact, they assisted us in writing this essay.
This serves as yet another illustration of the tremendous influence that computer and artificial intelligence (AI) technology  has on society, daily life, and how we interface with technology.
Tal moved to California and founded Magical, the next-generation calendar for remote teams that used a proprietary scheduling recommendations engine. He soon realized that a large number of the small firms he worked with were unable to fully use the potential of AI and cutting-edge technologies to optimize their operations.
Following his experience with the revolutionary effect of these tools in a wide range of contexts and industries, Tal is now dedicated to bringing AI to people.
Read more in The Jerusalem Post>>