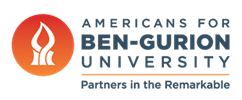 BGU Shines While Beer-Sheva Rises as Tech Hub
January 13, 2020
Negev Development & Community Programs, Robotics & High-Tech
The Jerusalem Post – Beer-Sheva, the peripheral city often referred to as the "capital of the Negev," has long sought to shake off its reputation as a dusty home to blue-collar workers. More recently, David Ben-Gurion's decades-old dream has been rapidly advanced by teams located in the city: a combination of government support, multinational corporate investment, academia, and medicine.
Disembarking at Beer-Sheva-North train station, visitors to the city are now met by a sprawling campus connecting Ben-Gurion University of the Negev (BGU), Soroka University Medical Center and the rapidly expanding Advanced Technologies Park. A large plot of empty land nearby will soon be populated by the IDF's expansive new telecommunications base, home to the military's elite tech units.
BGU has played a key role in the development of the emerging Beer-Sheva tech hub, representing far more than just a pipeline of academic talent. The world's premier innovation districts, whether in Boston or Barcelona, are found in locations with strong universities and hospitals.
Prof. Dan Blumberg, vice president for regional and industrial development at BGU, has played an integral role in building partnerships with high-tech firms arriving in Beer-Sheva and coordinating the long-awaited move of the IDF to the region. Through its research staff and students, BGU has joint projects with nearly every company at the high-tech park.
"Ben-Gurion University was established with an original mandate to bring the academic population to an underdeveloped part of the country. It is in our DNA to be attuned to the social and economic needs of society," said Blumberg.
Leading Israeli and international companies have already filled the three completed buildings at the high-tech park. Construction of the fourth building is underway, and the fifth building permit is already approved. Dell EMC, IBM, Mellanox, and Deutsche Telecom are only some of 70 companies populating the park, employing over 2,500 engineers and tech personnel.
Dell EMC is currently the largest employer in the park and its first tenant. The company's growth in recent years has been supported by recruiting employees from BGU and the Sami Shamoon College of Engineering. Approximately 30% of their employees relocated to the city from elsewhere, many attracted by enhanced financial opportunity for young families.
The Tel Aviv-based web-publishing platform Wix.com has repeatedly outgrown its space and has had to move offices since arriving at the high-tech park in 2015. "I believe there were a few motivations to set up this [Wix office] in Beer-Sheva," said Koby Maman, a Ben-Gurion University graduate who now leads R&D for Wix Bookings.
"One was simply a Zionist goal, to be part of building the high-tech community here in the southern region of the country. The second was also very simple – we need engineers and very good engineers. There is a very good source of talent here that we can draw into the park."
When complete, the park will offer 200,000 square-meters of office space spanning across 15 buildings. A hotel and large conference center are also being developed adjacent to the park.
"My vision is that the city of Beer-Sheva will become an incubator for dreamers from all over the world and will be an international anchor for startups and technological developments creating the future," said Beer-Sheva Mayor Rubik Danilovich.