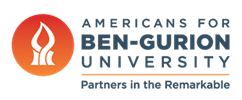 Calcalist Spotlights BGU's Prof. Dan Blumberg
February 25, 2022
Desert & Water Research, Robotics & High-Tech
Calcalist — "It was a researcher who emigrated from the U.S. to Beer Sheva and he decided to deal with some of the water problems in the Negev," explained Prof. Dan Blumberg when discussing the start of the Ben Gurion University 50 years ago. "One of our biggest problems is water scarcity," he said, before explaining that that same man would go on to create desalination through reverse osmosis and drip irrigation.
"Now if I take that 50 years later, and fast forward, we are now trying to impact the technologies that most of us have to deal with on a daily basis. And the most recent change in the world is communication… A lot of the work we do in cybersecurity is actually trying to help the common person who is using his cellphone day in and day out and transferring data over those phones to have a safe network."
Today, 50 years since that first invention by that researcher, Ben Gurion University has grown to 2,800 engineers, seen the founding of the Gav-Yam High Tech Park, and the presence of 70 companies setting up research centers in Beer Sheva.