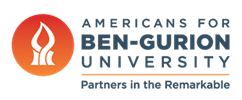 BGU Alumni Shine at Consumer Electronics Show
January 8, 2020
Medical Research, Robotics & High-Tech
From the Grapevine — Merav and Michal Mor, identical twin sisters who both received Ph.D.s in physiology from Ben-Gurion University of the Negev, showcased their innovative breathalyzer, Lumen, at the Consumer Electronics Show (CES), the biggest tech convention in the world.
The annual innovation expo, taking place in Las Vegas this week, is featuring nearly two dozen Israeli startups and entrepreneurs, including the Mor twins. Their invention is a groundbreaking device that can tell if your body is using fats or carbs for energy.
Lumen is a pocket-sized gadget, which looks a little like a vape pen. It helps you control your metabolism and, in turn, your weight. It does in minutes what hospitals and clinics often take hours to accomplish: measuring your CO2 concentration to determine the source of your energy. If your CO2 is high, that usually indicates a carb burn; if it's low in CO2, it's a fat burner.
While Lumen's technology is relatively new, the science behind it has been around for years. Lumen uses the same process that hospital breath tests used to measure metabolism. It's just bringing the clinical process into your home, for faster results, in a device you can use as many times as needed.
In 2014, the Mor twins formed a team of nutritionists, engineers, and designers to begin developing technology to measure metabolism in a more efficient way than the gold-standard clinical test. Since then, Lumen has raised more than $1.5 million in an Indiegogo campaign and has begun selling the devices commercially. On January 7, Lumen made its second CES appearance.