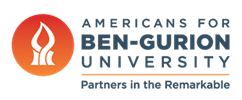 The Poetry of Lali Tsipi Michaeli
July 18, 2019
TLV1 – This 9-minute podcast showcases the talented poet Lali Tsipi Michaeli, a lecturer in Ben-Gurion University's Department of Hebrew Literature.
Her poetry is impacted by her life and immigration story and aims to capture not just the mind at work, but also the soul as it becomes aware of itself as an entity both anchored in, and apart from, the body.
Listen to "Israel in Translation" and get lost in Michaeli's eloquent storytelling and touching poems.