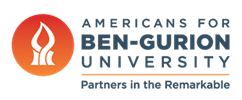 BGU Poet Honored as Visiting Artist in U.S.
July 25, 2019
Leadership, Awards & Events, Social Sciences & Humanities
Jewish Press – Esteemed Israeli poet, translator and editor Dr. Dory Manor, who teaches at Ben-Gurion University's Abrahams-Curiel Department of Foreign Literature and Linguistics, has been selected as one of 10 Israeli artists to make up the 11th cohort of the Visiting Artists Program of the Israel Institute.
The Israel Institute is a Washington, D.C.-based nonprofit organization dedicated to expanding opportunities for university students to learn about modern Israel. The program brings outstanding Israeli filmmakers, choreographers, musicians, writers, theater practitioners, and visual artists to leading universities in North America for teaching residencies. Beyond engaging with students, visiting artists share contemporary Israeli culture with American communities.
"In fields spanning from dance and theater to literature, music and technology, these artists provide university students windows into the creative heart of Israel and a deeper understanding of the cultural richness of modern Israeli society," says Flo Low, associate director of the Arts Programs at the Israel Institute.
Manor received Israel's Yehuda Amichai Prize for poetry (2015); the Ministry of Culture Prize for Best Literary Editor (2011); the Tchernikovsky Prize for Best Translations of World Masterpieces (2008); and the Prime Minister's Prize for Hebrew Writers (2007 and 2018).
Founder and editor of the literary magazine Oh!, he also co-edited the first Hebrew LGBTQ poetry anthology (2015). Manor has published four books of poetry and his Hebrew translations of classic literature include works by Voltaire, Descartes, Molière, Flaubert, Baudelaire, Mallarmé, Valéry, Apollinaire, Ginsberg, Blake, Lorca, Auden, and others.
He has also edited many works by Israeli prize-winning poets and writers. In 2017, he received his Ph.D. in translation studies and comparative literature from INALCO University of Paris.