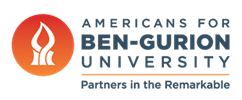 Rabbi Denise L. Eger To Receive BGU Honorary Doctorate Degree
March 17, 2021
Leadership, Awards & Events, Press Releases
Ben-Gurion University of the Negev (BGU) Beer-Sheva, has announced that it will present an honorary doctoral degree to Rabbi Denise L. Eger, Jewish leader, AIDS and gender equality activist, author and founding rabbi of Congregation Kol Ami, West Hollywood's Reform LGBTQ Synagogue.
"As a proud Zionist, I am deeply humbled to receive this honorary degree from Ben Gurion University which embodies the pioneering spirit and success of Israel," says Rabbi Denise Eger. "I have tried through my rabbinic career to inspire commitment to Jewish tradition, widen the tent of the Jewish people as well as deepen engagement with Jewish life and with the people of the State or Israel. This is a humbling and affirming moment."
Rabbi Eger has a vast array of accomplishments and accolades for which this prestigious honoris causa is being bestowed. She is a past president of the Central Conference of American Rabbis, the largest organization of rabbis in the world. The first woman and openly gay person to have served as past president of the Southern California Board of Rabbis, Eger had the honor of officiating at the first legal wedding for a lesbian couple in California in June 2008.
"Well-deserving of BGU's Honorary Doctorate Degree, Rabbi Eger is truly a remarkable rabbi, activist and leader," says Doug Seserman, chief executive officer of American Associates, Ben-Gurion University of the Negev. "Her incredible history as a pioneer is particularly meaningful in light of the recent Israel Supreme Court ruling, granting Reform and Conservative Jewish converts rights as Jews as a pathway to citizenship."
Seserman adds, "I am also thrilled that Rabbi Eger has accepted a leadership role in Americans for Ben-Gurion University's new rabbinic council, which is currently in formation. She has led the way to positive change by breaking through glass ceilings and inspiring the rest of us with her righteous devotion towards equality."
"Rabbi Eger is one of the great Jewish leaders of our time. As past president of the Central Conference of American Rabbis, the largest and oldest rabbinical organization in North America, she serves as a bridge between America's Jewish community and Israel and is a leading voice in the pursuit of equality, especially when it comes to LGTBQ rights in the Jewish community," says BGU President Prof. Daniel Chamovitz. "We are proud to present her with an honorary doctoral degree. By dedicating herself towards such a noble cause, she serves as an example to us all."
Rabbi Eger is the editor of the groundbreaking book: Mishkan Ga'avah: Where Pride Dwells: A Celebration of LGBTQ Jewish Life and Ritual. She is the co-editor of Gender & Religious Leadership: Women Rabbis, Pastors and Ministers by Lexington Press and a noted speaker on the topics of human sexuality, LGBTQ issues and Judaism, AIDS, the changing Jewish Family, Spirituality and Health issues in Judaism and Politics, Progressive Judaism and the Radical Right. Rabbi Eger received her Doctor of Divinity Degree from Hebrew Union College in 2013 and was ordained as Rabbi in 1988 after receiving her Master's Degree from Hebrew Union College – Jewish Institute of Religion in 1985.
ABOUT AMERICANS FOR BEN-GURION UNIVERSITY
By supporting a world-class academic institution that not only nurtures the Negev, but also shares its expertise locally and globally, Americans for Ben-Gurion University engages a community of Americans who are committed to improving the world. David Ben-Gurion envisioned that Israel's future would be forged in the Negev. The cutting-edge research carried out at Ben-Gurion University drives that vision by sustaining a desert Silicon Valley, with the "Stanford of the Negev" at its center. The Americans for Ben-Gurion University movement supports a 21st century unifying vision for Israel by rallying around BGU's remarkable work and role as an apolitical beacon of light in the Negev desert.
About Ben-Gurion University of the Negev
Ben-Gurion University of the Negev embraces the endless potential we have as individuals and as a commonality to adapt and to thrive in changing environments. Inspired by our location in the desert, we aim to discover, to create, and to develop solutions to dynamic challenges, to pose questions that have yet to be asked, and to push beyond the boundaries of the commonly accepted and possible.
We are proud to be a central force for inclusion, diversity and innovation in Israel, and we strive to extend the Negev's potential and our entrepreneurial spirit throughout the world. For example, the multi-disciplinary School for Sustainability and Climate Change at BGU leverages over 50 years of expertise on living and thriving in the desert into scalable solutions for people everywhere.
BGU at a glance:  
20,000 students | 800 senior faculty | 3 campuses | 6 faculties: humanities & social sciences, health sciences, engineering sciences, natural sciences, business & management, and desert research.
For all press inquiries, please contact:
James Fattal, J Cubed Communications
516.289.1496