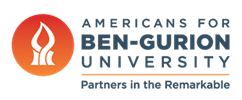 Kol Ami Rabbi Denise Eger Receives Honorary Doctorate from BGU
March 22, 2021
JEWISH JOURNAL — Congregation Kol Ami Rabbi Denise Eger is receiving an honorary doctoral degree from BGU. The university announced on March 17 that it will be presenting the degree to Eger because of her work as a Jewish leader, AIDS and LGBTQ activist, author and founding rabbi of the West Hollywood Reform synagogue.
Eger will also lead the new American Associates, Ben-Gurion University of the Negev's (Americans for Ben-Gurion University) Rabbinic Council. While it's still in its early stages of formation, the initiative is a combination of academic, research and outreach programs aimed at building stronger relationships between Israelis and Americans.
Doug Seserman, chief executive officer of Americans for Ben-Gurion University, said Eger is a remarkable rabbi, activist and leader and that this honorary doctorate is well-deserved. "Her incredible history as a pioneer is particularly meaningful in light of the recent Israel Supreme Court ruling granting Reform and Conservative Jewish converts rights as Jews as a pathway to citizenship," Seserman said. "I am also thrilled that Rabbi Eger has accepted a leadership role in Americans for Ben-Gurion University's new rabbinic council, which is currently in formation. She has led the way to positive change by breaking through glass ceilings and inspiring the rest of us with her righteous devotion towards equality."
Since becoming a rabbi in 1988 from Hebrew Union College – Jewish Institute of Religion, Eger has devoted her life to creating a welcoming Jewish environment for everyone. She is also a past president of the Central Conference of American Rabbis, the largest organization of rabbis in the world, and received her Doctor of Divinity Degree from Hebrew Union College in 2013.
Eger was the first woman and openly gay person to have served as past president of the Southern California Board of Rabbis and was instrumental in helping pass the March 2000 CCAR resolution in support of officiation and gay and lesbian commitment ceremonies. In June 2008, she had the honor of officiating at the first legal wedding for a lesbian couple in California.
"I have tried through my rabbinic career to inspire commitment to Jewish tradition, widen the tent of the Jewish people as well as deepen engagement with Jewish life and with the people of the State of Israel," Eger said in a statement to the Journal. "This is a humbling and affirming moment."
In addition to her activist and rabbinical work, Eger is also an author, public speaker and "proud Zionist." She is the editor of the book, "Mishkan Ga'avah: Where Pride Dwells: A Celebration of LGBTQ Jewish Life and Ritual," which is a collection of LGBTQ prayers, poems, liturgy and rituals that celebrate Jewish diversity. She is also co-editor of "Gender & Religious Leadership: Women Rabbis, Pastors and Ministers," which highlights the work of female ministers, rabbis and pastors around the world. Eger frequently leads discussions on human sexuality, the LGBTQ community, Judaism, AIDS, modern Jewish family life, spirituality and progressive Judaism. In 2019 Eger was honored by the City of Los Angeles during Jewish American Heritage Month as one of the women leading change in the city.
BGU President Daniel Chamovitz also believes Eger is deserving of this honorary degree, stating she is one the "great Jewish leaders of our time."
"As past president of the Central Conference of American Rabbis… she serves as a bridge between America's Jewish community and Israel and is a leading voice in the pursuit of equality, especially when it comes to LGTBQ rights in the Jewish community," Chamovitz said. "We are proud to present her with an honorary doctoral degree. By dedicating herself towards such a noble cause, she serves as an example to us all."