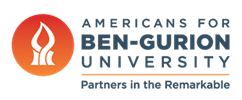 Michael Feige Chair Inaugurated
June 7, 2017
Leadership, Awards & Events, Social Sciences & Humanities
BGU's 47th Board of Governors Meeting in May hit a somber note as faculty member Dr. Michael Feige z''l was posthumously honored with the inauguration of the Michael Feige Career Development Chair in Israeli Society. Dr. Feige was murdered in a terrorist attack at the Sarona Market in Tel Aviv in 2016.
A 20-year member of the Ben-Gurion Research Institute for the Study of Israel and Zionism, Dr. Feige was also head of the undergraduate Israel studies track in the Faculty of Humanities and Social Sciences.
Following his tragic death, Americans for Ben-Gurion University wanted to find an appropriate way to honor Dr. Feige's memory. Americans for Ben-Gurion University decided to establish a career development chair that would be awarded to an outstanding lecturer early in his or her professional career who has demonstrated exceptional academic achievements in the field of Israel studies.
At the ceremony, Americans for Ben-Gurion University National Board Member Art Hessel noted that the funding for the chair came from 329 individuals who did not even know Dr. Feige, "but the tragedy that ended his life had a profound influence on all of us."
The event was part memorial, part celebration. Prof. Ofer Shiff, head of the World Jewry in Israel lab at the Ben-Gurion Research Institute and dear friend of Michael's, spoke about the void left by his loss. View a video of the ceremony >>
"Michael was one of the leading brilliant sociologists in the field of Israel studies. He was a colleague and a close friend with an incredible sense of humor — a humble human being with uncompromising integrity. The void Michael has left at our academic roundtable is painfully obvious," he lamented.
In addition, Dr. Feige's widow, Nurit Feige, spoke about their life together as young Negev pioneers.
"We moved to the Negev in 1997," Nurit said. "We wanted to be part of a young, vital community. We lived a life that was a unique combination of pioneering and academia.
"He was a wonderful father and family man, always making us laugh and documenting us as if he sensed that his time is short. He was wise beyond his years and a master of expressing the meaningfulness of life. He was a Zionist and a critical sociologist and those two aspects did not conflict with one another."
Ben-Gurion Institute Director Dr. Paula Kabalo discussed Dr. Feige's research, his loss and his hopes for the future. She pointed out the irony that among Dr. Feige's favorite research topics was the study of Israeli commemoration, particularly after a terrorist attack.
Dr. Kabalo remarked: "When seeking to explain the personal meaning of commemoration, he quoted a bereaved father saying, 'This isn't a battle legacy – this is a life legacy,' and while observing a commemoration project on the Israel National Trail [a hiking trail that traverses the southern and northern borders of Israel], he commented: 'It created a community that deliberates on the meaning of Israeliness'.
"And so, Michael concludes: 'The continuation of the unifying culture of bereavement is as essential to the families as it is to the State. But the question we should posit for the future is whether other segments of Israeli society will join this coalition of bereavement, or will society move on and leave behind the bereaved parents alone in their private mourning.'
"Today, we are answering you," Dr. Kabalo continued. "Michael: we have not moved on. In your case, commemoration brought together a whole community – the BGU/ Americans for Ben-Gurion University community. To cite your own research – your commemoration, Michael, will not serve as a battle legacy – this is a life legacy.
"So let me turn now to the life legacy and introduce you to the Michael Feige Chair incumbent, Dr. Ben Herzog."
Dr. Herzog, who received his Ph.D. from Yale, joined the BGU faculty in 2014. His academic work weaves together sociology, political science and more. His publications examine immigration, citizenship and national identity in Israel from a comparative and historical perspective.
"In this respect, there is a clear link between Ben and Michael," said Dr. Kabalo. "Both aim to decode the historical roots of current sociological phenomena in Israeli society."
Dr. Herzog is currently teaching Dr. Feige's Israeli society course. As chair incumbent, he will be responsible for spearheading an annual lecture on Israeli society, and awarding a prize to an excellent BGU Ph.D. student studying the field.
"We hope that the annual lecture and prize ceremony led by the Michael Feige Chair will commemorate him in a way he would appreciate — as a platform to ensure ongoing deliberation into the meaning of Israeliness," said Dr. Kabalo.
Nurit Feige seemed to think her husband would greatly approve of the initiative. "Had he been here today, he would have looked at you with a smile and said, 'I am a lucky guy.'"