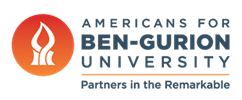 Americans for Ben-Gurion University Honors the Memory of a Holocaust Survivor
June 8, 2017
Leadership, Awards & Events, Social Sciences & Humanities
Prof. Hanna Yablonka of the BGU Department of Israel Studies was named the first incumbent of the Aron Bernstein Chair in Jewish History, which was dedicated at the 47th Board of Governors.
Aron Bernstein z"l, for whom the chair is named, was a Holocaust survivor who fell in love with the University after visiting only once. He left a large bequest to Americans for Ben-Gurion University for a scholarship endowment that would benefit generations to come.
Though not a requirement of the bequest, Americans for Ben-Gurion University was determined to find an appropriate way to further honor his special legacy, and "the murdered members of all families lost in the savagery of the Shoah," said Toni Young, president of Americans for Ben-Gurion University. "Today's ceremony is the result."
Young continued, "I am privileged to stand before you as we inaugurate the Aron Bernstein Chair in Jewish History, a chair whose first incumbent will be our world-renowned scholar, Prof. Hanna Yablonka.
"Through her continuing research and that of those who will follow her as incumbents of this chair, the life and legacy of Aron Bernstein and his family will continue to impact both Israel and the Jewish people for untold years to come. Aron Bernstein's legacy here at Ben-Gurion University of the Negev is the ultimate repudiation of the murderous wishes of the Nazis."
Prof. Yablonka, herself the daughter of Holocaust survivors, is a world renowned scholar of the Holocaust and a second generation BGU academic. Her parents were among the founders of BGU's medical school in the early 1970s.
"I am grateful and honored to have been granted the Aron Bernstein Chair in Jewish History," Prof. Yablonka said. "The bottom line of my long research corpus on Holocaust survivors is that it's an unprecedented tale of immigration, in which newcomers became the backbone of society in the new country they had just founded," she remarked.
Prof. Yablonka is the author of Survivors of the Holocaust: Israel After the War, and the seminal book on the Adolf Eichmann trial, The Eichmann Affair—Its Origins, Impact and Significance, 1960-1967. She is currently finishing a "collective biography of 290,000 — the first natives to be born in the State of Israel between 1948 and 1955," slated to be published in conjunction with Israel's 70th anniversary events next year.
But first and foremost, Yablonka is a teacher. "I've learned from all my teachers, but above all from my students. The highlight of my career is my Ph.D. students, whom I have the privilege of supervising," she said.
Following her remarks, three of these students spoke about their research.