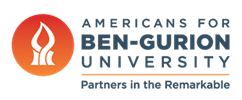 From Start-Up Nation to Cyber Nation
January 31, 2014
Business & Management, Homeland & Cyber Security, Negev Development & Community Programs, Robotics & High-Tech
The Christian Science Monitor — At the recent CyberTech conference in Tel Aviv – which was attended by 450 government and industry leaders from around the world, including a large contingent from the United States Department of Homeland Security – Israel Prime Minister Benjamin Netanyahu unveiled a new international consortium focusing on cyber security, named CyberSpark.
Located in Beer-Sheva, CyberSpark is the integration of government, military, business, and academia: notably Ben-Gurion University of the Negev, which recently launched the country's first cyber security master's programs.
A new Advanced Technologies Park next to BGU's Marcus Family Campus opened the first of 15 planned buildings in September, and an adjacent Israeli military base for high-tech units is set to open in 2017. The convergence of the military's talent with BGU will play a major role.
Israelis recruited by the Israel Defence Forces' (IDF) top cyber units can start training as early as their sophomore year in high school, followed by three or more years of hands-on IDF training in dealing with cyber attacks – giving them a strong leg up before they even start college.
"You can't train someone in cyber security at university, especially when you want to cope with advanced attacks," says Prof. Yuval Elovici of BGU's cyber security labs.
"But when they come to a degree program with years of experience, in this case developed through military service, academia becomes much more fruitful for developing cyber know-how."
One of Prof. Elovici's doctoral students, Mordechai Guri, recently discovered  a "critical" vulnerability in the Knox security platform used by Samsung's Galaxy G4 smart phone, though Samsung has since said the problem lies with Google's Android system.
"Imagine if all Americans worked at the [National Security Agency] for five years then left and went to the open market," says Prof. Elovici, who also serves as director of the Deutsche Telekom Innovation Laboratories at BGU.
"I definitely believe Israel can be Number 1 in this domain. It's already Number 1 in applying cyber security know-how…now we just need to turn it into business."
Multinational corporations are recognizing the value of Israel's emerging cyber companies.
"Companies that are killing each other in the marketplace have joined forces and it's really amazing," says Netta Cohen, chief executive officer of BGN Technologies, BGU's technology transfer company, which has facilitated collaboration between business and academia.
Among those companies are information-management firm EMC and defense technology company Lockheed Martin; they recently signed a deal to create a joint cyber center in Beer-Sheva. IBM also just announced a new center of excellence at BGU. They will be setting up shop in BGU's Alon Building for High-Tech.