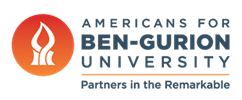 From Barren Desert to Top Cyber Center
September 11, 2015
Negev Development & Community Programs, Robotics & High-Tech
Beer-Sheva Is Turning into a High-Tech Oasis
NoCamels — Just four decades ago, a visit to the southern desert city of Beer-Sheva in Israel would have shown a barren landscape, with mostly sand and camels in sight. In recent years, however, the city has been undergoing a near-miraculous transformation and is now gaining a new reputation for itself.
Those looking for an explanation need look no further than the $1 billion Gav-Yam Negev Advanced Technologies Park (ATP) — a massive joint project to revitalize the Negev desert by making it a major hot spot in the rise of the "startup nation." The project is a joint effort by the State of Israel, the Beer-Sheva municipality, Ben-Gurion University, and KUD International: a consortium of U.S. and Japanese investors.
Upon completion, this unique office park will be one of the largest startup ecosystems in the country.
It's no wonder foreign investors are looking to Beer-Sheva for exciting new opportunities. Earlier this year, T3 Advisors and Brandeis' International School singled out Beer-Sheva as one of the seven "cities of tomorrow" that global companies should consider when planning their global expansion.
"Traditionally, the Negev has been considered the periphery of Israel, off the beaten track, but Israel's first prime minister, David Ben-Gurion, always talked about the importance of the Negev and how it holds the key to Israel's great future," Faye Bittker, a spokeswoman for Ben-Gurion University, tells NoCamels. "And with this project, we're seeing that vision come to life."
Another huge player in the building of Israel's "cyber capital" is the Israel Defense Forces, which is moving its technology units out of the Tel Aviv area and into Beer-Sheva. An estimated 20,000 soldiers will be relocated to the south by 2021, and technology and communications infrastructure as well as data and information centers will be built right next to BGU to accommodate the huge move.
The move is a cause for celebration for the firms and startups at the ATP that are interested in hiring the talented, tech-savvy, intelligence-unit soldiers upon discharge, and is grabbing the attention of other multinational investors who also want first dibs on the best cyber talent pool.
Beer-Sheva's transformation from a barren land of sand and camels into a cyber-security powerhouse is a source of pride for ATP's partners.
"This project is a confluence of completely different organizations and interests trying to make something happen," Bittker says. "We feel like we're making a positive difference, and the economic impact of this park is already visible."