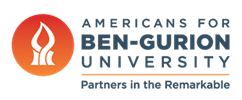 Printing Protective Visors for COVID-19 Medical Teams
April 21, 2020
Ynet.com — In response to a shortage of personal protective equipment on the front lines of the COVID-19 crisis, an online community, called COVID-19 Open Source, provided "makers" (those who use 3D printers to create items based on a digital model) with a variety of medical models, including the masks.
Tomer Glick, a cyber security researcher at Ben-Gurion University, took on the challenge. "I looked online and saw what people were creating and what was missing," says Glick.
"Protective visors were something I knew I could print, so I obtained a few models and made a few adjustments so that even those with a sub-par 3-D printer would be able to print them quickly."

Glick says that he made further changes to his model after consulting with medical experts. "We made improvements after talks with doctors and medical teams who gave us important feedback," he says.

Glick teamed up with a software developer, Yehonatan Dor-On, and medical student, Arbel Tamari, to launch this effort and get the masks to Israeli hospitals.
To help meet the demand, hundreds of volunteers who own 3-D printers joined the project, and are now doing their part to aid in the fight against the epidemic by printing medical masks en mass.
The developers of the project also established a logistical army of volunteers who sent the protective equipment to every hospital in need around the country – from Eilat and Beer-Sheva to Tel Aviv and Petah Tikva.