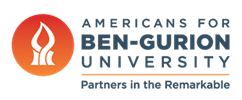 BGU and Simbionix Team Up to Diagnose COVID-19
April 13, 2020
Medical Research, Robotics & High-Tech
Ctech — The Colorado-based medical simulation company, Simbionix USA Corp., has developed a training module to help doctors diagnose coronavirus (COVID-19) using portable lung ultrasounds. The training method, developed in collaboration with Ben-Gurion University of the Negev, is already being used to train doctors in hospitals across Israel.
The technology was developed based on input from medical teams across the globe and aims to help doctors improve their ability to detect coronavirus-related symptoms, like pathologies of viral pneumonia, faster and more efficiently.
"Ultrasound plays a critical role not only in diagnosing COVID-19 associated pneumonia but in monitoring hospitalized patients, their reaction to treatment, and reaction to ventilation by ICU patients," says Shirly Friedman, head of the Point of Care Ultrasound (PoCUS) service at the Sourasky Medical Center in Tel Aviv.