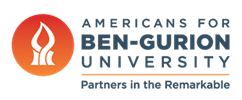 BGU's COVID-19 Response Effort
May 5, 2020
(Updated June 15) On March 12, Ben-Gurion University of the Negev President Prof. Daniel Chamovitz announced the BGU COVID-19 Research Task Force to harness the University's vast brain power, research skills and ingenuity to help cope with the coronavirus pandemic.
"It is our moral obligation to contribute to coping with this pandemic," Prof. Chamovitz said, urging BGU researchers to join the task force.
Prof. Chamovitz stated that the University would devote resources to bring the most promising projects to fruition.
"Since the outbreak of this coronavirus, it has become an international crisis that affects individuals, families, communities, and countries around the world," Prof. Chamovitz said. "I am turning to you, our researchers, to make the coronavirus crisis and its repercussions your top priority, to be creative and practical in order to achieve significant contributions to the national and international challenges that stand before us."
To date, some 70 projects are underway. Among them are:
A 5-minute diagnostic test for people to take at home
A 1-minute "breathalyzer" test to identify asymptomatic carriers
Self-sterilizing reusable face masks
Support for the elderly and other vulnerable populations
Testing the occurrence of COVID-19 in wastewater to predict outbreaks
Antiviral coating that can be painted on surfaces
Read a report from BGU on the research>>
As everyday life around the world has been affected, the effects of coronavirus extend beyond the search for a vaccine. In addition to the University's virologists, BGU scientists and students are addressing the public health, public policy, engineering, information systems, economic, psychological, technological, tourism, and educational challenges.
Watch a replay of the most recent webinar on COVID-19: BGU Breakthroughs>>
Additionally, during the height of the crisis in Israel, more than 100 BGU scientists and graduate students volunteered to increase blood sample testing for COVID-19 at the Clinical Virology Lab at Soroka University Medical Center in Beer-Sheva.
Americans for Ben-Gurion University Provides Financial Assistance
The BGU COVID-19 Response Effort requires financial support, and American Associates, Ben-Gurion University of the Negev (Americans for Ben-Gurion University) immediately launched a campaign to enable BGU to participate fully in the world's efforts at mitigation and containment.
"We support Prof. Chamovitz's call to BGU scientists to pivot and put their efforts into fighting the medical and socio-economic consequences of this global pandemic," said Doug Seserman, chief executive officer of  Americans for Ben-Gurion University.