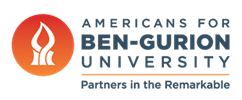 BGU Students Awarded Engineering Prize
January 5, 2015
Business & Management, Natural Sciences, Robotics & High-Tech
Idan Admon and Yaara Ben-Or, undergraduate students from BGU's Department of Electrical and Computer Engineering,  won a prize at the recent conference of the Society of Electrical and Electronics Engineers in Israel (SEEEI).
The team, advised by Prof. Raul Rabinovici,  developed a climate-controlled location-based air conditioning system as its final undergraduate project.
The innovative new system uses real-time sensors instead of batteries and remotes. The sensors automatically turn on the system when a person enters the room, turns it off when the person leaves, and tracks the temperature throughout the location. The new system was developed to improve the user's standard of living and reduce energy costs.
The system relies on infrared and a depth perception camera in real time, which can take advantage of location-based data to map the room and divide it into different work areas – offering individuals personalized climate control.
The SEEEI competition covered various categories in areas including electricity and renewable energy.
Contestants were required to submit a project book to investors and give a marketing presentation in English.