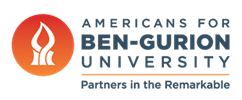 BGU's Negev CleanTech Initiative
March 2, 2015
Business & Management, Negev Development & Community Programs, Press Releases
Ben-Gurion University of the Negev's (BGU) Clean Technology Business Plan Competition finals were held recently in Beer-Sheva, Israel as part of an effort to promote entrepreneurship that could significantly impact the future of the Negev.
The competition is part of the Negev Funding Coalition's Clean Technology Initiative at BGU. The Negev Funding Coalition is a consortium of Jewish federations (Delaware, Metrowest New Jersey, Miami, New York, Philadelphia, Montreal, and Toronto) and Israel's Rashi Foundation interested in inspiring and supporting the development of the Negev.
Professor Dafna Schwartz, director of BGU's Bengis Center for Entrepreneurship and Hi-Tech Management, and Professor Asher Brenner, head of BGU's Department of Environmental Engineering and lead judge of the competition, presented the winners with their awards along with Talya Levin, assistant director of global programs for Jewish Federations of North America, on behalf of the Coalition.
Winning first place was Chakratec, a company that uses innovative kinetic batteries to provide smart storage with unlimited charge/discharge cycles that is totally green and easily deployable.
RuBind placed second for development of a new type of rubber-based material which can be used in asphalt pavement.
Two other Negev companies received honorable mentions: Solview, an online system for automatic solar potential analytics and Econcrete, a developer of ecological concrete for marine and coastal infrastructure.
"The Negev Funding Coalition's work exemplifies strategic collaboration on behalf of Negev development. Their commitment to fostering the growth of clean tech business through BGU's Bengis Center has brought significant resources to rising stars in the field, and has strengthened the ties between industry and academia: a winning combination all around," explains Doron Krakow, executive vice president of American Associates, Ben-Gurion University of the Negev.
"Their efforts are not only helping the Negev region, but are grooming future entrepreneurial talent by providing fellowships to BGU graduate students."
The Negev Funding Coalition
The Jewish Federations of North America (JFNA) provides a platform for identifying and catalyzing initiatives in the Negev through the Negev Funding Coalition. The Coalition aims to inspire and support the development of the Negev, driven by a shared passion for the opportunities the Negev provides for its residents, Israeli society and Diaspora communities. Membership is currently comprised of seven federations and one Israeli foundation, and is a vehicle for interested funders to collaborate on strategic high impact projects that address the Negev's significant challenges.
ABOUT AMERICANS FOR BEN-GURION UNIVERSITY
By supporting a world-class academic institution that not only nurtures the Negev, but also shares its expertise locally and globally, Americans for Ben-Gurion University engages a community of Americans who are committed to improving the world. David Ben-Gurion envisioned that Israel's future would be forged in the Negev. The cutting-edge research carried out at Ben-Gurion University drives that vision by sustaining a desert Silicon Valley, with the "Stanford of the Negev" at its center. The Americans for Ben-Gurion University movement supports a 21st century unifying vision for Israel by rallying around BGU's remarkable work and role as an apolitical beacon of light in the Negev desert.
About Ben-Gurion University of the Negev
Ben-Gurion University of the Negev embraces the endless potential we have as individuals and as a commonality to adapt and to thrive in changing environments. Inspired by our location in the desert, we aim to discover, to create, and to develop solutions to dynamic challenges, to pose questions that have yet to be asked, and to push beyond the boundaries of the commonly accepted and possible.
We are proud to be a central force for inclusion, diversity and innovation in Israel, and we strive to extend the Negev's potential and our entrepreneurial spirit throughout the world. For example, the multi-disciplinary School for Sustainability and Climate Change at BGU leverages over 50 years of expertise on living and thriving in the desert into scalable solutions for people everywhere.
BGU at a glance:  
20,000 students | 800 senior faculty | 3 campuses | 6 faculties: humanities & social sciences, health sciences, engineering sciences, natural sciences, business & management, and desert research.
Media Contact:
Brian Sherry
Stern Strategy Group
908-325-3860