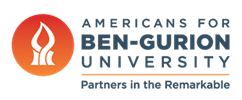 BGU Launches Student-Run Venture Capital
December 17, 2018
Negev Development & Community Programs
by BGU student Roy Kimchi
Medium – Ben-Gurion University of the Negev announced the launching of Cactus Capital, a student-run venture capital (VC).
Beer-Sheva has gone through a remarkable transformation. In the past it was considered less developed than Israel's other major cities, such as Tel-Aviv, Jerusalem and Haifa.
After recognizing its own potential, Beer-Sheva began to receive the attention and the leverage it needed, whether from the government, the city council and of course BGU.
With all the changes that Beer-Sheva has experienced and continues to do so, BGU saw immense potential in creating Cactus Capital.
The main goal of the student-run VC is to serve as an academic-educational tool to encourage innovative ideas in the high-tech, biotech and social fields. Each year, the VC will invest in dozens of groups of students. Leveraging entrepreneurship as a growth engine, the University will be able to influence regional and national development by training the next generation of entrepreneurs and leaders in Israel.
Want to take part in the Cactus Capital team? Reach out to them via [email protected], then meet them for coffee on BGU's campus.
Read the full article by BGU student Roy Kimchi on the Medium website >>