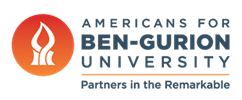 Back to the Future: 21st-Century Zionism
November 30, 2018
Negev Development & Community Programs
This is an excerpt from Moment magazine's interview with Americans for Ben-Gurion University Chief Executive Officer Doug Seserman.
Ben-Gurion University of the Negev (BGU) is located in Beer-Sheva and is one of Israel's leading research universities. It has a diverse student body of 20,000 students on three campuses, with six national and multidisciplinary research institutes. The University was established in 1969 and named after David Ben-Gurion, Israel's first prime minister, after his death in 1973.
Ben-Gurion believed that education and science were crucial for the Jewish state to survive and to be a light among nations. Because of the Negev's vast landmass and undisputed territory, Ben-Gurion viewed the area as the future of Israel. He lived on a kibbutz in Sde Boker, about 30 miles south of Beer-Sheva, to demonstrate his commitment. "It is in the Negev that the creativity and pioneer vigor of Israel shall be tested," he famously said.
Moment: How is David Ben-Gurion's vision still relevant today?
D.S.: I think of Ben-Gurion as the Yoda of the Jews, small in size but wise and powerful. He really had the ideas way ahead of their time, and his voice is missing from the current dialogue. I'm on a mission to pursue his vision because I think that's what is needed today.
M: Why should American Jews care about the Negev?
D.S.: If you want to experience Israel's past, that's Jerusalem. If you want to understand Israel's present, you visit Tel Aviv. But if you want to imagine Israel's future and invest in it, then you need to immerse yourself in the Negev.
Ben-Gurion understood from the very beginning that the man-made human act of creation as it relates to Israel would best be manifested in the Negev. There was nothing there so there is nothing to argue about. Even today, the Negev comprises 60 percent of the country's land, yet has less than 10 percent of its population.
Whatever the solution is for the future of Israel, the Negev is key to it. Ben-Gurion knew the Negev needed a first-class university that could serve as the scientific research vehicle and the economic engine that could drive growth. I think Ben-Gurion University represents the best of Israel in the least contested place.
M: How is BGU helping to fulfill Ben-Gurion's vision?
D.S.: We're the Negev's largest employer. We have 6,500 people working at the university. Our science contributions make the desert bloom. We solved Israel's water problems, and we export intellectual water know-how to the United States and worldwide. Thanks to BGU's work, Israel is the only country in the world with a desert that's shrinking.