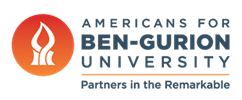 BGU Inaugurates Center for Female Bedouin Students
January 25, 2016
Negev Development & Community Programs, Press Releases
BGU opened a special student center last week for Bedouin female students who face significant academic and social challenges pursuing higher education. Josh Arnow of New York attended the dedication ceremony on behalf of his father, Robert H. Arnow, a past chairman of the University's board of governors, past president of American Associates, Ben-Gurion University of the Negev, and benefactor of the Robert H. Arnow Center for Bedouin Studies and Development.
The center is the first of its kind: a social center and "warm home away from home" for Bedouin women who study at the University. It is a joint initiative of BGU President Prof. Rivka Carmi and the Arnow family.
"We noticed that female Bedouin students were often found sitting in the lobby of the student union early in the morning, and during the day we saw them hanging out on the grass with nothing to do," says Merav Yosef-Solomon, head of administration in the Office of the Dean of Students.
"Over the course of many conversations with BGU faculty member and first woman Bedouin clinical psychologist, Dr. Sarah Abu-Kaf, the need for a dedicated space for the students emerged — a space where they can feel safe, where they can rest, hang out, or receive instruction and assistance from professionals," explains Yosef-Solomon.
In light of these circumstances, the University established this unique center. A social worker from the staff of the Office of the Dean of Students will be on hand as a guiding and supportive figure. The students will be able to rest between classes and wait for their rides home, study and meet for joint activities (empowerment workshops, women's health lectures, social activities, and more). The center will only be accessible to those with specially programmed student cards in order to increase the women's sense of security.
At the beginning of the school year during the orientation seminar for Bedouin students, the students will be invited, along with their parents, to visit the center with the aim of encouraging cooperation from the parents in supporting their daughters' academic study. The knowledge that the young women have a safe space to rest and to wait for transportation home will alleviate worries and encourage parental support.
Around 1,200 Arab students study at BGU. Some 450 of them are Bedouin and 70 percent of the Bedouin are women. The center was created to provide a solution for some of the unique challenges facing these women:
Many of them arrive early in the morning and leave late at night on dedicated buses, but they do not attend classes the whole time that they are on campus.
Many of them still have difficulty speaking and reading/writing Hebrew, which makes it harder for them to integrate academically and socially.
Relative to other Israeli university students the Bedouin are experiencing independence for the first time, while the vast majority of their counterparts have already served in the army and traveled extensively.
Those who study in the humanities and social sciences often begin their degrees unsure about what they want to study and are in need of academic guidance.
They also face additional cultural pressures: a reluctance to ask for help, close scrutiny from Bedouin society and other unique social pressures.
ABOUT AMERICANS FOR BEN-GURION UNIVERSITY
By supporting a world-class academic institution that not only nurtures the Negev, but also shares its expertise locally and globally, Americans for Ben-Gurion University engages a community of Americans who are committed to improving the world. David Ben-Gurion envisioned that Israel's future would be forged in the Negev. The cutting-edge research carried out at Ben-Gurion University drives that vision by sustaining a desert Silicon Valley, with the "Stanford of the Negev" at its center. The Americans for Ben-Gurion University movement supports a 21st century unifying vision for Israel by rallying around BGU's remarkable work and role as an apolitical beacon of light in the Negev desert.
About Ben-Gurion University of the Negev
Ben-Gurion University of the Negev embraces the endless potential we have as individuals and as a commonality to adapt and to thrive in changing environments. Inspired by our location in the desert, we aim to discover, to create, and to develop solutions to dynamic challenges, to pose questions that have yet to be asked, and to push beyond the boundaries of the commonly accepted and possible.
We are proud to be a central force for inclusion, diversity and innovation in Israel, and we strive to extend the Negev's potential and our entrepreneurial spirit throughout the world. For example, the multi-disciplinary School for Sustainability and Climate Change at BGU leverages over 50 years of expertise on living and thriving in the desert into scalable solutions for people everywhere.
BGU at a glance:  
20,000 students | 800 senior faculty | 3 campuses | 6 faculties: humanities & social sciences, health sciences, engineering sciences, natural sciences, business & management, and desert research.
For all press inquiries, please contact:
James Fattal, J Cubed Communications
516.289.1496