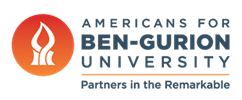 Oasis of Hope: Scholarships for Bedouin Students
December 1, 2015
Negev Development & Community Programs
More than 190,000 Bedouins live in the Negev, the vast majority in impoverished conditions.
To promote education and greater integration within Israeli society, the Robert H. Arnow Center for Bedouin Studies and Development was established in 1997. The Arnow Center offers special academic programs for Bedouin high school students to help them prepare to study at BGU, and also provides tuition support, tutoring and counseling to matriculated Bedouin students.
Before the Arnow Center was created, exceedingly few Bedouin students studied at the University. Today, more than 400 Bedouin students are enrolled at Ben-Gurion University of the Negev each year, earning bachelor's, master's, doctoral, and medical degrees in a wide range of concentrations.
When Bedouin students graduate they often return to their villages and contribute what they've learned to the development of their community. They become particularly powerful role models for young people, showing them they can aim high and end the cycle of poverty.
Click here to see more information and watch inspiring video testimonials from Bedouin scholarship students. 
You can help give more Bedouins access to higher education and become productive members of society by contributing to the Bedouin Scholarship Fund. Your gift will be matched dollar for dollar up to $225,000 for the 2015-2016 academic year by longtime supporter and former Americans for Ben-Gurion University President and BGU Chairman Emeritus Bob Arnow and his family.