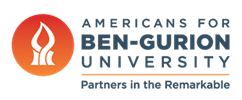 Millions Raised for Cartilage Regeneration Technology
January 15, 2016
Medical Research, Press Releases
CartiHeal Ltd., developer of a cell-free, off-the-shelf cartilage and bone regeneration device developed by Nir Altschuler at Ben-Gurion University has raised $15 million. The funds will be used to promote ongoing manufacturing scale-up, plan for initial European commercialization in 2017 and expand clinical studies to new therapeutic areas.
CartiHeal is a spin off of research done at BGU's Avram and Stella Goldstein-Goren Department of Biotechnology Engineering.
Millions of people injure cartilage in their knees, ankles, shoulders, and other joints every year. Cartilage injury is often associated with pain that adversely affects lifestyle and activity levels. Furthermore, a cartilage injury, if left untreated, may lead to degenerative changes and progression of osteoarthritis.
Commonly used treatments for cartilage injuries, such as debridement or microfracture, generate mostly fibrocartilage as opposed to native hyaline cartilage. This results in an inferior tissue that does not have adequate biomechanical properties or the ability to withstand long-term weight-bearing forces.
"The Agili-C™ implant has demonstrated outstanding ability to reproducibly regenerate hyaline cartilage," says CartiHeal founder and chief executive officer Nir Altschuler. "Agili-C™ enables biological resurfacing of cartilage and its underlying subchondral bone through a tissue regeneration process. The device is suitable for a wide range of pathologies from focal traumatic lesions to moderate stages of osteoarthritis.
"We believe that it will provide a good solution for a vast unmet need, especially for patients with osteoarthritis who do not respond to conservative treatment while their condition is not severe enough to justify full joint replacement. This investment will position CartiHeal as a significant player in the treatment of early osteoarthritis."
CartiHeal's cell free and off-the-shelf implant – Agili-C™ – has been successfully implanted in nearly 200 patients throughout Europe and obtained CE (European Union) approval. Agili-C™ is indicated for the treatment of cartilage and osteochondral defects in degenerative and non-degenerative lesions. Results from procedures in the knee, ankle and big toe indicate regeneration of hyaline cartilage and its underlying subchondral bone, as well as significant improvement in pain levels and reduction of related symptoms.
The investment was led by Johnson & Johnson Innovation – JJDC Inc. together with CartiHeal's existing investors: Elron, Accelmed, Access Medical Ventures, and Peregrine Ventures.
About CartiHeal
CartiHeal, a privately held medical device company headquartered in Israel, is a pioneer in the field of regenerative medicine, providing simple and effective solutions for both degenerative and non-degenerative articular cartilage lesions. The company was founded by Nir Altschuler and Ben-Gurion University of the Negev.
Backed by extensive clinical evidence, its flagship product – Agili-C™, has shown to promote regeneration of true hyaline cartilage and its underlying subchondral bone, simultaneously, without the use of cells, growth factors or other exogenous agents. The CE marked implant is a rigid bi-phasic scaffold composed of biocompatible and biodegradable materials. www.cartiHeal.com.
ABOUT AMERICANS FOR BEN-GURION UNIVERSITY
By supporting a world-class academic institution that not only nurtures the Negev, but also shares its expertise locally and globally, Americans for Ben-Gurion University engages a community of Americans who are committed to improving the world. David Ben-Gurion envisioned that Israel's future would be forged in the Negev. The cutting-edge research carried out at Ben-Gurion University drives that vision by sustaining a desert Silicon Valley, with the "Stanford of the Negev" at its center. The Americans for Ben-Gurion University movement supports a 21st century unifying vision for Israel by rallying around BGU's remarkable work and role as an apolitical beacon of light in the Negev desert.
About Ben-Gurion University of the Negev
Ben-Gurion University of the Negev embraces the endless potential we have as individuals and as a commonality to adapt and to thrive in changing environments. Inspired by our location in the desert, we aim to discover, to create, and to develop solutions to dynamic challenges, to pose questions that have yet to be asked, and to push beyond the boundaries of the commonly accepted and possible.
We are proud to be a central force for inclusion, diversity and innovation in Israel, and we strive to extend the Negev's potential and our entrepreneurial spirit throughout the world. For example, the multi-disciplinary School for Sustainability and Climate Change at BGU leverages over 50 years of expertise on living and thriving in the desert into scalable solutions for people everywhere.
BGU at a glance:  
20,000 students | 800 senior faculty | 3 campuses | 6 faculties: humanities & social sciences, health sciences, engineering sciences, natural sciences, business & management, and desert research.
For all press inquiries, please contact:
James Fattal, J Cubed Communications
516.289.1496