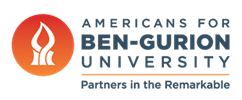 BGU, Bayer and Netafim Collaborate to Protect Crops
February 8, 2019
Desert & Water Research, Press Releases
Bayer, Netafim and BGN Technologies, the technology transfer company of Israel's Ben-Gurion University of the Negev (BGU), announced a three-year research collaboration. The announcement was made yesterday at the Fruit Logistica 2019 trade fair and exhibition in Berlin.
The project will combine leading soil research, digital prediction tools and state-of-the art drip technology developed by Netafim to establish best practices for using drip irrigation as a delivery system for Bayer Velum Prime in Israel. Velum Prime combats nematodes (roundworm) and damaging diseases affecting potatoes, tomatoes, cucumbers, citrus, and brassicas.
"This collaboration agreement with industry leaders such as Bayer and Netafim is a testament to BGU's leading position in the field of agriculture," said Netta Cohen, chief executive officer of BGN Technologies." Located in the heart of the Negev desert, the research at the University's Jacob Blaustein Institutes for Desert Research on the Sde Boker campus focuses on water, energy, agricultural, and ecological solutions for extreme desert and drylands conditions, which are increasingly becoming more relevant with environmental changes such as global warming."
Due to medical and environmental concerns, use of chemical crop protection is being limited, resulting in loss of certain products. Farmers are now seeking sustainable agricultural solutions to preserve crop yields.
Bayer and Netafim have addressed this challenge with a new innovative solution named DripByDrip. The concept uses Netafim's drip irrigation systems to deliver Bayer's chemical and biological crop protection products. DripByDrip applies the active substances precisely to the plant, resulting in higher efficacy, lower amounts of crop protection compound and lesser environmental impact.
Assisted by BGU scientists from the Blaustein Institutes, the group will work to calibrate digital prediction models for optimized application of crop protection compounds via drip irrigation. This includes laboratory and field studies evaluating the behavior of Bayer Velum Prime in soils and plants under typical agricultural conditions in arid regions.
Research will be conducted at the Blaustein Institutes and Netafim facilities in Israel. It will be led by BGU Prof. Shimon Rachmilevitch, Dr. Marc Rist of the Bayer Crop Science Division, and Dubi Raz, corporate agronomy director at Netafim.
Holger Weckwert, portfolio management segment manager for insecticides solutions at the Bayer Crop Science Division, said, "Applying crop protection compounds using drip irrigation accurately targets the relevant plants, and is an environmentally friendly, efficient and cost-effective contribution to sustainable agriculture. We look forward to collaborating with leading BGU scientists."
"Drip irrigation delivers water, fertilizers and crop protection, including biologicals, directly to the roots of the crops," says Netafim's Dubi Raz. "This approach enables farmers to apply crop protection products in a more targeted way using Netafim's drip irrigation technology. Following our successful long-term partnership with Bayer, we are pleased to now welcome BGU's scientists in assisting us in optimizing the application of crop protection compounds via drip irrigation."
About Bayer
Bayer is a global enterprise with core competencies in the life science fields of health care and agriculture. Its products and services are designed to benefit people and improve their quality of life. At the same time, the Group aims to create value through innovation, growth and high earning power. Bayer is committed to the principles of sustainable development and to its social and ethical responsibilities as a corporate citizen. In fiscal 2017, the Group employed around 99,800 people and had sales of EUR 35 billion. Capital expenditures amounted to EUR 2.4 billion, R&D expenses to EUR 4.5 billion. For more information, go to www.bayer.com.
About BGN Technologies
BGN Technologies is the technology transfer company of Ben-Gurion University of the Negev in Israel. BGN brings technological innovations from the lab to the market and fosters research collaborations and entrepreneurship among researchers and students. To date, BGN has established over 100 startup companies in the fields of biotech, high-tech and cleantech, as well as initiated leading technology hubs, incubators and accelerators. Over the past decade, BGN Technologies has focused on creating long-term partnerships with multinational corporations such as Deutsche Telekom, Dell-EMC, IBM, PayPal, Bayer, ICL, and Adama, securing value and growth for Ben-Gurion University as well as the Negev region. For more information, visit the BGN Technologies website.
About Netafim
Netafim is the global leader in precision irrigation for a sustainable future. With 29 subsidiaries and 17 manufacturing plants worldwide, Netafim delivers innovative, tailor-made irrigation and fertigation solutions to millions of farmers, allowing smallholders to large-scale agricultural producers in over 110 countries to grow more with less. Founded in 1965, Netafim pioneered the drip revolution, creating a paradigm shift toward precision irrigation. Today, specializing in end-to-end solutions from the water source to the root zone, Netafim delivers turnkey irrigation and greenhouse projects supported by engineering, project management and financing services. Netafim is also leading the way in digital farming, integrating real-time monitoring, analysis and automated control into one state-of-the-art system. In 2017, Mexichem, a leading supplier of innovative solutions in the building and infrastructure, data communications, irrigation and chemicals industries acquired 80 percent of Netafim. Kibbutz Hatzerim holds the remaining 20 percent. Learn more at www.netafim.com.
ABOUT AMERICANS FOR BEN-GURION UNIVERSITY
By supporting a world-class academic institution that not only nurtures the Negev, but also shares its expertise locally and globally, Americans for Ben-Gurion University engages a community of Americans who are committed to improving the world. David Ben-Gurion envisioned that Israel's future would be forged in the Negev. The cutting-edge research carried out at Ben-Gurion University drives that vision by sustaining a desert Silicon Valley, with the "Stanford of the Negev" at its center. The Americans for Ben-Gurion University movement supports a 21st century unifying vision for Israel by rallying around BGU's remarkable work and role as an apolitical beacon of light in the Negev desert.
About Ben-Gurion University of the Negev
Ben-Gurion University of the Negev embraces the endless potential we have as individuals and as a commonality to adapt and to thrive in changing environments. Inspired by our location in the desert, we aim to discover, to create, and to develop solutions to dynamic challenges, to pose questions that have yet to be asked, and to push beyond the boundaries of the commonly accepted and possible.
We are proud to be a central force for inclusion, diversity and innovation in Israel, and we strive to extend the Negev's potential and our entrepreneurial spirit throughout the world. For example, the multi-disciplinary School for Sustainability and Climate Change at BGU leverages over 50 years of expertise on living and thriving in the desert into scalable solutions for people everywhere.
BGU at a glance:  
20,000 students | 800 senior faculty | 3 campuses | 6 faculties: humanities & social sciences, health sciences, engineering sciences, natural sciences, business & management, and desert research.
For all press inquiries, please contact:
James Fattal, J Cubed Communications
516.289.1496