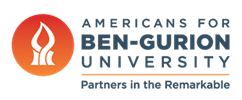 BGU Research Suggests How the Negev Can Combat Climate Change
September 5, 2023
Desert & Water Research, Sustainability & Climate Change
i24NEWS — For researchers at Ben Gurion University, the long-standing strategy of desert greening has significance as a potential solution to deal with climate change
Israel's arid deserts may hold the secret to combating climate change.
"Israel is the only country in the world where the desert is getting smaller—it's the opposite of desertification," Professor Noam Weisbrod, Director of the Blaustein Institutes for Desert Research at Ben Gurion University, tells i24NEWS.
Professor Weisbrod focuses on water research at the Blaustien Institutes for Desert Research—where faculty are learning lessons from the desert to serve all of humanity on a changing planet.
"The earth is 47% dryland according to the UN definition. We are dealing with topics important to the future of humanity, given the fact that climate instability—something we talk about all the time—is especially emphasized in dryland. Population growth is mostly in drylands. Desertification makes the world more and more dryland," says Weisbrod.